Life in Europe has a lot to offer. From beautiful sights to a prosperous economy, there are thousands of reasons why this part of the world is a great spot to visit and live in.
Today, we want to celebrate the annual Europe Day by demonstrating the top perks of living in Europe and sharing our favourite values of this magical part of the world.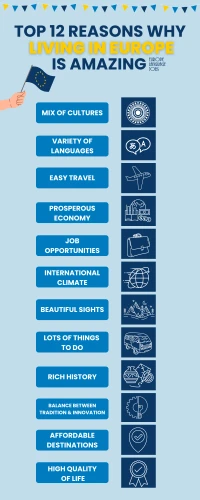 Top reasons why living in Europe is amazing:

A mix of cultures
The United Nations recognise 46 Member States. This means we can say that there are 46 different countries in Europe.
Each and every single one of those countries is unique. They have their own culture, habits, customs, language, and millions of other tiny elements making them special.
Although we can group European countries into sub-categories based on their language and geographical region (for example Balcan, Slavic, Scandinavian, Central, Western, etc.), you won't find two that would be exactly the same. There might be certain similarities between different nations, but there are just as many of them as there are differences.
It is wonderful to live on a continent with such cultural variety. Each visit abroad, no matter how close or how far, supplies you with new knowledge and exposes you to previously unknown customs. The delightful surprises never stop coming, and one lifetime is not nearly enough to discover all peculiarities of European traditions.
A variety of languages
With a variety of cultures comes a variety of languages. Europe is home to 24 official languages, though nearly 300 are estimated to be spoken on the continent as a whole. These numbers, of course, do not include all the dialects not officially recognised as languages, but which are spoken in certain regions nonetheless.
Therefore, living in Europe gives you the perfect opportunity to brush up on your language skills and gain new ones. An hour on the plane can get you to a spot where a whole other language is spoken and force you out of your linguistic comfort zone!
If this sounds scary rather than exciting, don't worry. English is the common language of communication all over the world, and Europe is no exception to that rule.
Of course, the level of national proficiency in English varies from country to country but in general, you should have no problem getting by speaking English in Europe. Any extra language is a bonus, as it opens even more doors for effortless communication with European citizens and expats.
We have created a list of the top English-speaking countries in Europe in a separate article, so make sure to have a look!
Easy travel
Although Europe is home to so many countries, it is the second smallest continent in the world (preceded only by Australia and Oceania). This makes travel within Europe incredibly easy.
First of all, organs such as the European Union and the Schengen Zone allow citizens of the member states to travel within Europe without limitations. Not only does it mean no need for a visa, but not even a passport is necessary to cross borders if you're a European citizen!
Secondly, the compact size of Europe allows one to travel by train from one side of the continent all the way to the other. Initiatives such as interrail make this not only possible, but also affordable.
There are also plenty of coach companies operating across all of Europe, ready to take you to your chosen destination at a very low rate. For example, a single trip from Berlin to Vienna with Flixbus could cost you as little as €40!
If you value the comfort of shorter travel, there are plenty of cheap airlines in Europe for you to choose from. If you catch a special deal, you could get from London to Copenhagen in under 2 hours and for the whopping price of €15.
Due to the affordability and ease of travel, living in Europe makes it virtually impossible to resist the temptation. It would be a sin not to take advantage of cheap tickets and relatively short travel time to get to know every little nook of Europe!
Prosperous economy
Europe as a whole enjoys a reputation as a very well-developed continent with a thriving economy. Of course, the rate of comfort and cost of living depends on the country, but all 46 of them enjoy a prosperous economy.
Germany, Austria, and Switzerland, as well as Scandinavia, are considered some of the most expensive, but also the most luxurious places to live in Europe. Spain, Portugal, Poland or the Balkans come across as some of the most affordable European destinations (although this also comes with a slightly lower salary).
Despite the general differences, it is safe to say that all European countries offer a good standard of living and a well-developed economy. You can safely choose where to live in Europe based on climate, culture, language, and any other factor you consider important without having to worry about how prioritising these aspects will affect your standard of living.

Abundant job opportunities
Due to the high standard of the economy, the European job market is filled with opportunities across all sectors. It doesn't matter whether you're looking for a job in the medical field, a white-collar position, or plan to start a freelance activity. Europe offers plenty of opportunities to succeed in all of those areas, and more.
And that's not the end of it! Another portion of good news is that regardless of where you wish to work in Europe, you don't necessarily have to know the local language to do so! Job boards such as Europe Language Jobs allow job seekers to find a job in Europe with their native language, or other languages they already know.
Would you like to work in Ireland with Dutch? Sure! Show off your Spanish skills while working in Greece? No problem-o!
When it comes to jobs in Europe, the sky is the limit. You may not even realise how much of an advantage being a native speaker of your language is until you have a look at all the great job offers waiting for you.
If you're having a hard time deciding which European country is the best for you to work in, check out the Work Abroad Calculator. It will help you determine where you can expect to earn the most for the type of job you do. Make the best of your working experience abroad!
International climate
Due to its cultural variety and the countless job opportunities in different countries, Europe is a truly international hub. It is full of both expats coming from across the ocean and locals experiencing life in another European country.
Living in Europe, you are exposed to a mix of all cultures of the world. Walking down the street, you can hear multiple languages and pass by restaurants offering dishes from any cuisine you can imagine. Studying at a European university or working in a European-based corporation, you will likely meet people of various nationalities.
Of course, the level of internationalism varies depending on the country. Certain European destinations are more diverse than others due to their increased popularity among expats. Make sure to check out our guide for top expat destinations in Europe in 2023 to find out which cities currently figure on top of everyone's bucket lists!

Beautiful sights
Europe has it all. The sea? Check. Mountain ranges? Check. A multitude of lakes? Check. Thick, green forests? Check.
Did you know there is even a range of deserts in Europe? Yup. Europe truly has it all.
European landscapes will surely satisfy even the most demanding of travellers. Mountain lovers can take in the breathtaking views of the Alpes stretching across the territories of 8 different countries.
Water addicts can choose from among an abundance of various water bodies scattered around Europe. There are cold seas, warm seas, lakes, rivers, bays, and even an ocean!
Fans of nature will find peace in countries such as Slovenia, Latvia, Spain, and Scandinavia, which offer the highest rate of green zones in Europe. Over 40% of Europe is covered in forests, which leaves plenty of opportunities for relaxing walks and nature breaks.
In terms of climate - again, there is enough variety in Europe to please everyone. Northern countries offer harsh winters and snowy landscapes. Southern destinations tempt with long, sunny days and hot beaches.
Wherever you go in Europe, you won't have to look far to encounter breathtaking views. Even the cities range from cosy historic sites to large, modern metropolises. The rustic climate of Mediterranean villages offers a great contrast to the industrial nature of Berlin, London or Zurich.
Whether you prefer quiet and nature or the hustle and bustle of a large city, you can easily find the ideal place in Europe to call home.
Lots of things to do
Thanks to the variety of climates and sights, you will never run out of things to do in Europe. Skiing enthusiasts will get a high-quality experience in the Alpes or the Pyrenees. Surfers will flock to Portugal and Cornwall in England, where the ocean provides excellent surfing conditions. Hikers will have their itineraries full of various trekking routes scattered all around Europe.
The great thing is, you never have to travel far to do either of those things. 2 hours may be more than enough to get to both the top skiing destination in winter and a holiday resort by the sea in the summer.
Living in Europe, you can try to do a different thing every year for the rest of your life, and you will never run out of destinations or ideas. If you plan a road trip, every step of the way will be filled with attractions.
There will never be a time when you will drive across extended patches of nothing while travelling across Europe. There will always be a green forest, a gleaming sea, a towering mountain range or a span of fields to please your eye on the way to your final destination.
European cities offer countless opportunities for sightseeing, beginning with historical monuments and ending with strolling across modern business districts. Anywhere you go, you can pop into a restaurant, go to a theatre, see a live show, or simply get lost among the streets.
No matter what your hobbies are and what constitutes the basis of a dream destination in your book, you are sure to find it while living in Europe.
A rich history
There is a reason why Europe has been nicknamed "The Old Continent". Its history is fascinating - and the best part is, each corner of Europe comes with its own stories to tell.
Modern European nations have been influenced by a variety of ancient cultures which have crossed their land over hundreds of years. Greeks, Romans, Etruscans, Gauls, Germans, Britons, Slavs, and Vikings are just some of the many, many cultures which have contributed to shaping Europe's rich heritage.
Even the Ottoman Empire, more commonly associated with the Middle East, has left a long-lasting imprint on parts of Eastern Europe!
The Old Continent has also borne witness to turbulent times and has survived multiple wars which took place on its lands. Numerous crucial figures in the world of politics, medicine, art, literature, cinema, and science have called Europe their homeland.
Living in Europe allows you to come across numerous places with historical significance. Being surrounded by so much history prompts reflection and awakens an appreciation for one's roots. It is simply inspiring to know your homeland has witnessed so many groundbreaking events and raised a number of people who have, quite literally, changed the world.

A balance between tradition and modernisation
Europe is truly proud of its rich history. The appreciation for the past is reflected in a majority of European cities. They pay homage to the old days and are marked by the numerous influences from mixed cultures across the years.
But that is not to say that Europe is stuck in the past. Its citizens have the uncanny ability to find the perfect balance between their appreciation for history and their strive for innovation. Looking back does not prevent Europe from moving forward at the same time.
The city of Berlin is the perfect example to illustrate this point. Due to the long years of division between Eastern and Western Germany, the two parts of the city remain very different to this day. The capital of Germany is a patchwork of districts in stark contrast with one another: from classic, elegant neighbourhoods to hippy, artsy areas full of street art and cheeky bars.
On the other hand, Prague is a city known for its beautiful old town and the historical value appreciated by locals and tourists alike. Still, the capital of the Czech Republic is currently experiencing an economic boom, with many international companies setting up their headquarters there. Prague is yet another case study proving that rich history and rapid innovation can go hand in hand.
Affordable destinations
Europe is home to many places with a very reasonable cost of living. Countries such as Greece, Poland, Portugal or Bulgaria are popular choices among expats looking for relatively cheap destinations - especially those working remotely.
Living in Europe, you can get the best of both worlds by combining the considerably high salaries in some countries and the low cost of living in others. For example, working remotely for a company based in Scandinavia while living in the sunny Spain is a dream scenario - one that can easily come true when you live in Europe.
Being a European citizen opens doors to such opportunities due to the lack of need for a working visa. It is necessary to obtain a residence and work permit to be able to find a job in another European country, but if you have a European passport, that shouldn't be an issue.
Many expats coming from abroad are positively surprised by the local prices in certain European countries. Multiple destinations in Europe offer the perfect balance of a high standard of living at a reasonable price. This is exactly what makes Europe a dream home for so many.
High quality of life
Europe as a whole offers an excellent quality of life. A 2023 study by Landgeist found that especially in the North and West of Europe, up to 90% of respondents are happy with the quality of life in their region.
The rate of overall life satisfaction measured in 2021 by Eurostat equalled 7.2 out of 10 for all European countries combined.
The satisfying quality of life may be a result of all the reasons we have discussed in this article. The reasonable cost of living, a dynamic job market, and a satisfying level of economic development make for an attractive combination.
Add to that the variety of climates, internationality, cultural diversity and natural beauty of Europe, and it is no wonder that its citizens are happy with their homeland.
---
We could go on and on about a hundred other reasons why living in Europe is amazing. In the article, we have discussed the most common ones, but rest assured, the advantages of life in Europe don't end there!

Are there any more reasons why you love living in Europe? We would love to get to know them, so let us know in the comments!