Perhaps you have already thought through how to become a digital nomad in 2024. Maybe you have decided that this year will be your year, and are looking for the perfect destination for your next adventure.
The world is big and it can be extremely challenging to settle on one place. After all, there are so many aspects to take into consideration - finances, climate, professional opportunities, healthcare, cost of living, things to do, and much more!
We know choosing your next expat destination can be a feat, which is why we have taken it upon ourselves to do the research for you. We have analysed Internations' annual Expat City Ranking and, comparing it with our own data and experiences, we have created a ranking of the top 10 expat destinations in Europe to choose from in 2024.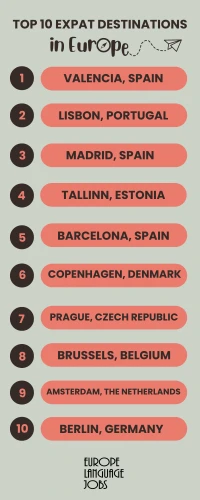 Have a look!
Valencia, Spain
We were thrilled to see that a Spanish city tops the Expat City Ranking for 2022. Valencia is the paragon for the carefree lifestyle commonly associated with Spain, while at the same time being much cheaper than other big cities in the country.
Aside from the satisfying cost of living, for which Valencia ranked first, it is also widely praised for the good social life it offers. Expats report it is extremely easy to feel at home there, with the friendly community and so many things to do, both during the day and at night.
Despite the broad range of activities, Valencia remains a very safe city. A staggering 92% of expats claim to feel secure there at all times. This might be because it's less of a touristy site than Madrid or Barcelona. Unfortunately, it is much easier to fall victim to crime in a tourist hotspot.
Other aspects that landed Valencia in the first place are the affordable public transport and multiple opportunities for fans of recreational sports. With the lovely weather the city is known for, it is definitely a Mekka for outdoorsy people and those who like getting their dose of daily exercise in fresh air!
The one thing locals and expats alike complain about are the limited career options. Coming to Valencia as an expat, it is recommendable to have already secured a job beforehand because doing so on the spot may prove quite challenging. Alternatively, it's also a great idea to enjoy the sunny climate and relatively low cost of living while working remotely for a company based somewhere else!
Is this your next stop? Get started with jobs in Valencia!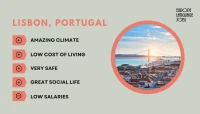 Lisbon, Portugal
We don't think we will surprise anyone by saying that Lisbon is widely praised for its weather and climate. The proximity to the ocean not only makes it the perfect surfing hub, but also guarantees a nice breeze in the hot summer and mild temperatures in winter.
Just like Valencia, Lisbon offers a satisfying quality of life for a relatively low cost. Portugal as a whole is a very cheap country compared to more Western nations, but it also comes with lower salaries. Therefore, many digital nomads choose to work remotely and live comfortably in Portugal while earning more than the local standards.
Locals in Lisbon reportedly speak very good English - most likely due to the touristy character of the city. This makes it very easy for expats to immerse themselves in the local culture and feel welcomed by the community. However, despite attracting many tourists, Lisbon remains a safe city, with 94% of expats reporting feeling secure there.
Last but not least, the easygoing mentality of the local people comes hand in hand with a variety of daily and nightly activities. There is no shortage of ways to boost your social life, as the city offers an attractive cultural experience and a well-developed nightlife scene.
Is this your next stop? Get started with jobs in Lisbon and The Ultimate Expat Guide to Lisbon!
Madrid, Spain
Being nestled in the heart of Spain, Madrid is a great starting point for further travel. Train tickets in Spain are cheaper than in some other European countries, and expats from the UK, Germany, and the Netherlands are usually positively surprised by how affordable train travel within Spain is.
The cost of living itself is elevated compared to other cities in the country, but remains low when juxtaposed with other European capitals such as Paris or Amsterdam. Expats report feeling welcome in Madrid and find it easy to get used to the local culture.
The excellent climate and rich culture and nightlife make the capital of Spain an attractive destination. It's the perfect spot for fans of big city life, as Madrid's size and population are rather impressive.
Expats admit that the local business culture does not promote flat hierarchies. This means that in contrast with the otherwise easygoing lifestyle Spain is often connotated with, the professional life in Madrid can be quite structured. The job market there is also very competitive, so many expats confess to a lack of job security.
Is this your next stop? Get started with jobs in Madrid!
Tallinn, Estonia
When thinking about best expat destinations, Estonia probably doesn't top your list. You will see now why that should change.
What makes Tallinn stand out among other European cities is its reportedly friendly administration. We do realise that the phrase "friendly administration" is usually an oxymoron, but the capital of Estonia is said to counteract this stereotype.
82% of expats say the local bureaucracy is easy to deal with in Tallinn - twice as much as the worldwide average of 40%. Access to online services is unrestricted - this includes government services. Overall, residents of Tallinn call it a city with a very good digital life.
Now, some good news for those from outside of the EU who would like to call Tallinn their new home: 80% of applicants say it was very easy to get a visa. Yet another testament to the effectiveness of the local bureaucracy.
Companies offer nice working hours and employers are said to promote independent work, encourage creativity in the office, and provide flexibility. However, the con of professional life in Tallinn are the limited career prospects available in the city.
Estonia is a compact nation, with a tight-knit community. For this reason, some newcomers perceive the local population as unfriendly (23%) and find it hard to make friends. The dietary options in restaurants are also described as limited, and so is the culinary variety in general.
The downsides are balanced by the excellent air quality - so difficult to encounter anywhere else these days - and affordable public transport. Every place has its ups and downs, so it's just a question of what matters to you!
Is this your next stop? Get started with jobs in Tallinn!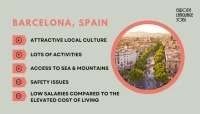 Barcelona, Spain
The 3rd Spanish city in the ranking? Yes! As happy as we are to see the city where our own office is located score well, we're not the ones who decided who makes the cut. It was all up to expats!
We can confirm that Barcelona makes it very easy to sink into the local culture - it's almost too easy! The culture and nightlife are thriving, with so many cultural facilities, you won't run out of things to do after a year of living here, and even more pubs and clubs.
When it comes to food, you will also find the variety very satisfying, with both spots offering traditional specials and others serving all kinds of international delicacies. You can enjoy all of them on the sunny, breezy terraces, which are open throughout most of the year, due to the wonderful climate.
The weather - a perfect combination between sunny and windy - also allows for practising many recreational sports. They can be both water-related or carried out on land. Especially roller skating seems to be an extremely popular activity, with so many locals zipping by, oftentimes choosing this mode of transport over bikes.
Living in the capital of Catalonia, you also get the rare opportunity to enjoy both mountains and the sea at the same time! The rolling hills surrounding the city are a great hiking spot, and if you'd like to go a step further and go skiing, Andorra is right there and full of high-quality slopes.
Unfortunately, employers in Barcelona have yet to make all employees feel like they are fairly paid for their work. The salaries are relatively low while the costs of living - especially in the housing market - continue to elevate. Barcelona is full of up-and-coming startups so it's a great starting point for young people, but those higher up in the hierarchy report limited career prospects.
Another important factor to remember is that Barcelona is less safe than Valencia or Madrid due to its touristy nature. The jokes about "the full Barcelona experience" including an encounter with a pick-pocketer are a classic by now, but they did start somewhere.
However, it is proven that aspiring thieves tend to target tourists and generally leave locals alone. Many of us at ELJ have lived here for years and have never been relieved of a personal item. So be mindful of the statistics and stay alert, but by no means be paranoid when coming to Barcelona!
Is this your next stop? Get started with jobs in Barcelona and The Ultimate Expat Guide to Barcelona!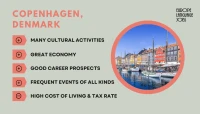 Copenhagen, Denmark
The capital of Denmark is a true cultural hub. Just perform a quick Google search of museums in Copenhagen and be amazed! Some of them offer free entry on certain days of the week, so moving there permanently would give you the opportunity to get your dose of culture without spending a single krone.
If you're more into other forms of entertainment, you can count on various events of all kinds regularly happening in the city. From open-air markets to concerts, the capital offers something for all kinds of budgets!
To mix the pleasurable with the practical, Copenhagen also enjoys a rapidly developing economy. Because of that, many expats flock to this city and choose it as their golden ticket to a well-paid, prestigious position. Those working in business and technology can count on the highest number of career opportunities.
The downsides coming with high salaries are the high cost of living - and a heart-stopping tax rate. When earning in Denmark, you can expect to contribute even up to 50% of your personal income to the country. The good news is that you will see your money's worth in various financial support systems for the unemployed, elderly, and students, as well as decent healthcare.
Some of that money is also used to fund free language classes for expats, so once you contribute your fair share to society, you might also be able to benefit from it and learn some Danish!
Prague, Czech Republic
If you're all about aesthetics, you will feel at home in Prague. This European capital is soaked through with history, and a lazy stroll downtown will supply you with your daily dose of beautiful architecture.
But Prague has more to offer than just nice sights. The more practical souls will be delighted to learn that the city enjoys a quickly developing economy. Many big international companies such as Facebook or Amazon are opening their offices there, creating hundreds of prestigious workplaces.
The historical nature of the city may suggest it doesn't have much to offer to young people. That's not true at all! You will be positively surprised by Prague's vibrant nightlife and the range of activities available to residents of all ages.
What's more, the capital of the Czech Republic enjoys the label of an affordable place to live, and the great work-life balance offered by local employers only adds to the charm of a financially stable, prioritised life.
The cherry on top of the delicious Prague cake is the efficient and affordable public transport system, paired with the sprinkle in the form of a diverse food culture. The city truly checks all the boxes!
Is this your next stop? Get started with jobs in Prague and The Ultimate Expat Guide to Prague!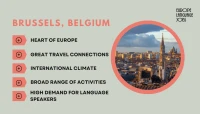 Brussels, Belgium
Brussels owe its international character and the title of finance & politics hub to the European Parliament based there. Living in this city, you will bear witness to some of the most important decisions happening right in front of your eyes - literally.
Belgium is right at the heart of Europe, which makes it the perfect starting point for further travel. If you're a digital nomad living in Brussels, you could potentially work in a different city every day of the week. The good connections and the proximity of the Belgian capital to other top European destinations encourage - and facilitate - frequent travel.
The prestige of hosting a major political institution doesn't hold the capital back from entertaining its residents with a wide catalogue of activities to choose from. You can visit an art museum during the day, see a theatre play in the afternoon, and finish the night in one of the up-and-coming nightclubs.
In between the visits to splendid cultural venues, drop by a restaurant or a café to enjoy the diverse dining options Brussels has to offer. And the best part? The international character of the city comes with an increased demand for language speakers, so you can expect to use your language skills in your job!
Is this your next stop? Get started with jobs in Brussels!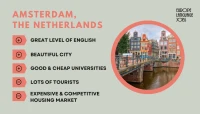 Amsterdam, The Netherlands
If the multilingualism of Brussels isn't quite for you, then consider the English-speaking Amsterdam. Given how many tourists visit it every month and the generally high number of English speakers in the Netherlands in general, you will have no troubles getting by without knowing the local language - or any other language except English.
However, the touristy aspect of Amsterdam does have its downsides. The beautiful streets swarm with visitors all year round, so it might not be the best spot for you if you're not a fan of crowds. Given the charm of the city, it's no wonder that so many want to see it and call it their home, though!
The increased interest in moving to Amsterdam comes with an incredibly high demand in the housing market. Accommodation is expensive and so difficult to find - residents often accept the first offer they can get their hands on. Many would rather live somewhere slightly beyond their financial means than worry about not having anywhere to live at all.
On the other hand, if so many people are interested in living in this picturesque city, there must be a reason! And there are - many. One of them is the great business opportunities waiting for locals and expats alike.
And even if you can't find anything in the capital itself, the country as a whole is compact enough to allow you to work in another Dutch city. Public transport is quite expensive, but it's not uncommon for an employer to cover the costs of your commute in the Netherlands.
Amsterdam is also a great destination for students. Universities there are much cheaper than in many other countries, and many courses in multiple areas are offered exclusively in English.
Is this your next stop? Get started with jobs in Amsterdam!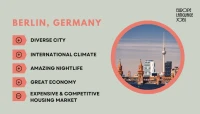 Berlin, Germany
Last but not least, a city in Germany couldn't possibly be missing from our list of top 10 expat destinations in Europe. It's no secret that living in Germany is the goal of many expats, mostly due to the country's position as Europe's financial leader.
But what else does Berlin have to offer?
The tumultuous history of the city has turned it into a place full of contradictions. You can walk from a trendy, hipster neighbourhood straight into a top-notch residential area full of classic buildings. Many like to view Berlin as a patchwork of contrasting elements - something that finds its origin in years of division through the famous wall.
No matter which district you're looking to move into, though, we can guarantee it will be problematic. Because of how many people flock to Berlin, expats report that the hunt for accommodation can take up to a year these days. If you'd like to be able to use the term "affordable" to describe your flat, you will need to arm yourself with even more patience.
However, the international climate of the German capital makes the wait worth it. You can find all kinds of cuisines from all 7 continents without even looking. Berlin is also famous for its one-of-a-kind nightclubs, where crowds from all over the world mix for an unforgettable experience.
To sum up, Berlin will please both those more appreciative of history and culture and party animals. It's always the good things that require a bit more effort and patience so even though moving to Berlin comes with challenges, it does pay off in the end.
Is this your next stop? Get started with jobs in Berlin and The Ultimate Expat Guide to Berlin!
---
Did you manage to choose your dream expat destination for 2024 yet? Did any of the cities included in our list surprise you? Maybe you'd like to add some more?
Hopefully, you have a clearer picture now of where you would like to go - either for holidays, or to linger there for longer. Each city has its pros and cons; your ideal destination depends on your own requirements and expectations. Think about what's important for you before embarking on your next adventure!
Author's note: our ranking, and the majority of data included in it, was mostly based on research by Internations. If you'd like to compare our list with another, we recommend having a read of the article about Best Places to Live in Europe for Expats by Nina from Out and About and her collaborators.