Did you know November is one of the best months to look for a job? Actually, Job Action Day takes place on November, 2nd, so we have gathered great offers for you to apply this month, and make your job search easier:
Per Country or City:
In Barcelona: We all know Barcelona is great during the Summertime, but the Mediterranean weather makes this city one of the best to live also during colder months. Furthermore, its charming people are always happy to welcome ex-pats, so if you are up for great food, stunning architecture, great weather, and nice people, apply to our available offers in Catalonia's capital.
In Ireland: Because it's multicultural and basically because Google, Paypal, Facebook, and some other great companies to work in have their Headquarters there. Need more reasons? Read our article Why Work in Ireland and prepare a good CV because you won't be able to resist applying to one of These Offers in Dublin or Cork.
In Poland: Do you really need a reason to spend your Winter in Poland? Well, here's one: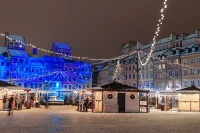 Already in love? Check our available offers in Poland.
Per Language:
German: Können Sie Deutsch? If the answer is Ja!, then let us tell you something: you are LUCKY. German is the most requested language in Europe after English, so take advantage of your language skills and apply to any of these offers, They ALL require German.
Dutch: It doesn't matter what position you would like to have. If you speak Dutch you are more likely to get it. Want to be a Payroll Accountant? You can. Site Team Leader or Supervisor? It's also possible. At Europe Language Jobs, we have hundreds of new vacature for Dutch speakers every day.
French: If you are fluent in French, you have two reasons to be happy. First, you are able to communicate in one of the most romantic languages in the world, and second, you speak one of the most requested languages in Europe. Can't believe us? Just take a look at our open positions for French speakers. C'est uncroyable!
Per Offer:
If you need further reasons to start your job hunt, we are going to give you four more:
5CA is Hiring: Great remote work opportunities! You can find out more about the reality of working from home here!
Uber is Hiring: There are many Community Support Representative positions waiting to be filled!
Volvo is Hiring: There are always Customer Support positions available with the Volvo Group!
Haven't found the perfect job yet? You still have one shot left: create a good CV, visit Europe Language Jobs and aim at your dream job!
The ELJ Team