Moving abroad is - quite literally - a life-changing decision. And like all pivotal steps, it cannot be taken all at once.
There are multiple stages to moving to a different country. The process takes time and dedication, and still, the hardest part of all may be the beginning.
How to move abroad? Where to start? It's not as obvious as it may seem at a first glance.
As a team of expats with years of experience living in a foreign country, we have put together a guide for all the expats at the beginner stage.
Have a look at the initial steps to making your move abroad we think you should start with when planning your next big adventure.
How to move abroad? 8 initial steps: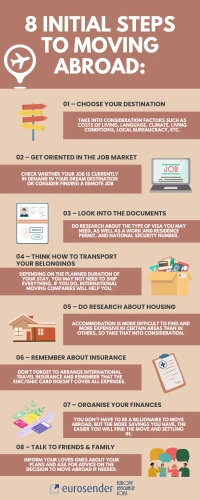 2. Get oriented in the job market
4. Think about the transport of your things
6. Remember about health insurance
9. Bonus tip: Invest in a good VPN

Choose your destination
Your desire to move abroad may have been born when you fell in love with a certain destination. Knowing where you want to go straight up might save you some trouble.
If all you know is that you want to relocate but are still on the fence as to where, there are plenty of guides about the best foreign countries to move to.
However…
There are multiple factors influencing your choice of a new home abroad. It is easy to get blinded by good living conditions or attractive weather, but sadly, that is not all.
We will discuss the most crucial factors in more detail in further points, but let's start with analysing your personal circumstances.
Are you moving abroad with family? Or are you moving to another country alone? Your needs will be different in both situations.
If you are relocating abroad with a partner or even children, your scope will have to be much broader. Aside from your own preferences, you will have to take into consideration the wishes and needs of your loved ones and find a balance between them all.
Additionally, your research will be extended by a job both for you and your partner, safety issues, local policies regarding families, the educational system and language.
Thanks to job sites such as Europe Language Jobs, finding a job abroad with your native language is not an issue. However, take into consideration the local language(s) as well. It might be easier for you and others to assimilate if you know at least the basics.
Don't get discouraged from pursuing your dream destination by a language barrier! What we're saying is, it would be helpful to attend some classes before going to live abroad. Once there, immersing in the language and culture will help you learn it in no time. But it will go even quicker if you come already having a basic knowledge of the local language.
Get oriented in the local job market
You may be able to keep your current job and work remotely. That would be cool.
But if that's not possible, not all is lost! Finding a job abroad is not as daunting as you may think. In fact, it doesn't have to be much different from job searching within one country.
Life has proven time and again that many of our day-to-day activities can be moved fully online. This includes the recruitment process.
Employers searching for international candidates are aware that they can't just hop on a plane to see them for an interview. They implement systems that allow them to hire new talent without forcing applicants to leave their homes.
What's more, multinational companies realise that moving abroad for work is quite an adventure, so they may try to accommodate you the best they can. Their support can include relocation packages, signing bonuses, help with the local administration or assistance in finding accommodation.
So, don't feel overwhelmed by the act of job search abroad itself. But do your research about the local market in your dream destination. Some countries are more focused on specific industries than others, so verify how difficult it will be to find vacancies in your position.
If you notice that the jobs in demand are in the IT and customer service sector while your speciality is marketing, it might be easier to switch your focus to another destination.
We're not saying give up instantly when you don't get the first job you apply for. But sometimes, it might take less effort to go somewhere your skills are sought-after, rather than enter a more competitive job market against all odds.
If you are very set on a specific destination, you can always consider finding a remote job. In this way, you won't have to give up either the country of your dreams or your designated position, so win-win!
Look into the documents
Travelling for leisure within Europe is very easy these days and can be done with just a personal ID. However, moving somewhere permanently unfortunately requires more hassle.
If you make a move within the EU as a European citizen, you won't be required to apply for a visa. Still, you will probably be obliged to obtain other kinds of documents. A residence permit and a national security number are usually must-haves for expats. If you'd be moving to start a new job, a work permit is also necessary in order to be legally hired.
If you plan to move outside of Europe, or are coming to the EU from somewhere else, you won't get far without a visa. Be careful, because the type of visa you will need to apply for varies depending on the purpose of your stay.
If you're moving abroad for work, you will receive a different type of visa than if you plan to study or live there without gaining a personal income. Bear in mind the new digital nomad visas, which more and more countries are beginning to implement!
The most reliable source of information regarding what sort of documents must be obtained before and after making the move is your destination's local embassy in your country. Visit their website, ring them up, or even make an appointment to discuss your laws and obligations as an expat in your target country.
Think about the transport of your things
How and what you send will depend on the intended duration of your stay. Sending everything makes total sense if you plan on moving to another country permanently.
However, your move may only be temporary, and you will return home after a few months or years. Or maybe, you only intend to spend a while in the first destination, and then move from country to country?
Whichever your plan, you need to go about transporting your belongings wisely. There is no point packing up the whole house and shipping it if you intend to come back soon. Similarly, if your first move abroad is a prelude to life as a digital nomad, it could be more sensible to sell some of your things rather than send them every time you move?
In case there are some possessions you can't live without, don't worry. We know shipping an heirloom piano or your great-grandmother's precious chest of drawers seems a bit daunting. But there are ways!
International moving companies such as Eurosender have your back. All you need to do is go to their website, type in the country you're sending your things from and the destination, and the type of delivery. Eurosender will take care of the rest - calculate the approximate costs and organise the international transport.
They offer a range of services, from sending documents, through medium-sized boxes, all the way to large pallets. You don't have to worry about sensitive documentation getting lost or valuable objects being damaged. As long as you make sure to pack the items correctly, the international transport company guarantees their safe passage to the new home.
Additionally, you can access their services as a consumer or a business, so in case you run a company that needs to move with you, Eurosender has you covered as well!
Do research on housing
Finding a place to live shouldn't be as hard as it is these days. We know this.
The process is already a challenge as it is, so do yourself a favour and don't make it even more complicated. Try to stay away from destinations where there isn't enough space for the locals - leave alone newcomers.
Unless you're so rich, it virtually doesn't matter to you how much you spend on monthly rent (and if you are, then congratulations!), you will want to take the competitiveness of the local housing market into consideration when choosing your destination.
For example, we at Europe Language Jobs love Barcelona. It is our little haven on Earth, and we simply cannot imagine our office being located anywhere else. But by God, is finding your own four walls a feat here!
Due to the increased interest in this multicultural hub, lots and lots of expats have been flocking to Barcelona in the past few years. The city has gotten so crowded that once you do sign a tenancy agreement, you hold on to it for dear life.
Avoid putting yourself in a situation where you will only be allowed to move if you absolutely have to. The Earth is overpopulated everywhere, but more so in some places than others.
Ironically, it might be easier to find a job in a big city, where accommodation options are strongly limited. This is why you really need to create a list of pros and cons when choosing your destination, and put the job and housing market up against each other as one of the primary deciding factors.
We know it's easy to get swept away and let your heart make all the decisions, but we're trying our best to remain that little voice of reason!
Remember about health insurance
International insurance is definitely something you will need to calculate into the cost of moving abroad. You can go with an international company that will cover you wherever you go, or choose a local provider once you get there.
Whichever option you decide on is up to you, but do pick one. Sorting out medical insurance is something many people moving to another country forget to do - which is ironic, considering it should be one of our first steps.
We all tend to push our health to the background until it's too late, so we're here to remind you about this crucial element of moving abroad. Seeing some of our monthly budgets be sucked up by medical insurance that we don't usually rip benefits from is upsetting.
But what would be even more upsetting, is not receiving those benefits when they do come in handy (although we hope they never do!).
The EHIC cards are a very popular option for travellers within Europe, but bear in mind that they do not cover all medical expenses, especially over longer periods. They are a great plan B or a safety blanket for when you travel, but they should not serve as your main - or only - option for health insurance when you start a new life abroad.

Organise your finances
It is not true that you need to have an indecent amount of money to start a new life abroad. There isn't a single millionaire among us in the ELJ team (at least not that we know of), and yet literally each one of us is an expat.
But the rumours you've heard about setting aside some coin when you are going to live abroad aren't all rubbish, either. No, you don't have to win the lottery. But will it make your life easier to have something in your savings account? Definitely.
How much does it cost to move abroad? We can't really give you a straightforward answer. If we were, it would be somewhere close to: it depends.
It depends on the cost of living in your chosen destination. It depends on the kind of lifestyle you lead. It even depends on where you are from and where you want to go, as travelling some distances is clearly more expensive than others.
It depends on so many things, you will need to do the maths yourself, based on your own situation. But what we can tell you is that the more you save up, the more comfortable your fresh start after emigrating abroad will be.
So, think about it that way: gather some savings, but don't go crazy about it. If money were to be the main reason why you need to severely postpone - or even worse, cancel - your move abroad, don't stress so much about it.
We don't advise moving to another country with €2.50 in your bank account, but we're also not saying it has to be 2.5 million. Arm yourself with a certain sum, but don't keep delaying relocating forever for financial reasons.
Talk to your friends and family
The decision to move to another country is yours - especially if you are making the move abroad on your own. Nobody should take that choice from you, or stop you from doing so against your will.
However, it might be helpful to discuss it with your loved ones first. After all, it is a big change for you, but also for them. Chances are, they will support you and put your happiness before their own, but it is good to inform them beforehand.
Asking for advice is a great starting point. Moving to a different country can be a difficult decision, so many find it necessary to talk it through with someone they trust. Seek out your closest friends and family members and get to know their opinion on your move abroad.
If you have already made up your mind about relocating and know you won't be swayed, prepare them for it. The best way to move abroad is with the full support of your loved ones, so don't make them feel like their emotions didn't matter to you when making the decision.

Bonus tip: Invest in a good VPN
This is something people often forget to do when moving abroad. The need for a VPN isn't obvious until we realise some of the sites we used to access on a daily basis aren't available in the region we have relocated to.
The same applies to films and TV shows, for example. Streaming services like Netflix or Amazon Prime offer a different selection in various countries. This might be problematic if you planned to continue watching your favourite series, which you can no longer find. Subtitles in your target language could also be unavailable, as this, too, sometimes depends on your location.
Not to mention, moving abroad often comes with frequent travel. Logging into personal accounts or accessing your banking details while on the move and connected to public wifi poses a risk. Getting a VPN will protect your privacy while you're online at airports or train stations.
Now that you know why it's crucial for your comfort and safety to get a VPN when you move abroad, read more about the best VPN solutions at PrivacyJournal.
---
We hope our advice has helped you ease some of the doubts and lit a clear path towards what you need to do in order to start a new life abroad. It all seems daunting at first, but once you start taking the first steps and setting things into motion, the domino effect will kick in.
If relocating was a piece of cake, everyone would be doing it. The things in life that require the most effort, are usually also the most rewarding. So take a deep breath and get started.
We're sure that with our tips, you will be able to effectively move abroad and thrive.