Have you ever considered living in Barcelona - the sunny city nestled between the sea and the mountains? This diverse and tropical place is a dream destination for many expats who wish to live and work abroad. Its incredibly favorable weather, stunning architecture, city atmosphere, nature attractions, people, coast, food, and joyful lifestyle make Barcelona one of the top places to be. We have created a blog article for those who want or plan to live in Barcelona: the Ultimate Expat Guide full of useful tips is ready for you!
Professional Life: Finding a job in Barcelona
There is a huge demand for English and other language speakers, making this city the perfect spot for finding a job as a Barcelona expat. In some jobs and companies, you will find that it is necessary to know Catalan and Spanish, but this isn't always the case.
As Barcelona is a tech hub, there is a large presence of international businesses, from small startups to large multinational companies. In terms of industries and languages required, it's safe to say there are more than enough options to choose from.
When it comes to job hunting in Barcelona, job boards are definitely your best friends! Aside from Indeed, Linkedin, and Glassdoor, there are also a variety of language-specific job boards perfect for expats, such as Europe Language Jobs (where companies can even offer relocation packages to make your life easier).
If you are looking for part-time or summer jobs, you will also be able to find a variety of options in bars, clubs, hotels, and restaurants. Barcelona is a tourist city, so this kind of opportunities will always be available.
Paperwork you'll need:
The first thing you'll need when preparing for your life in Barcelona is your residency, called empadronamiento. It is fairly easy to get an appointment and the entire process only takes 15 minutes. You will need to bring specific documents with you, your passport, rent/apartment contract, and a water/electric bill. Make sure to check the website in case there are any other documents you're required to bring.
Once you have your residency documents sorted out, you will need to get your Foreigners Identity Number or the so-called NIE. It isn't a long process, but trying to find an appointment to get your NIE can be stressful. Therefore, if you're planning on working in Barcelona, make your life easier by getting mentally ready. You will also need different documents for your NIE, such as bank statements, health insurance, etc.
The last step would be the Social Security Number, which is easy and fast to obtain. Most of the time, the companies are able to do it for you.
Here is how to work your way through the necessary paperwork.
Obtaining an NIE:
Getting an appointment (called Cita Previa) is usually the hardest and most frustrating step of the process, so you need to start early. Once you've booked an appointment online or through phone, you must gather the necessary documents to bring to the Immigration Office (Oficina de Extranjería), which is usually located in the main police station. There are two of them, but many expats living in Barcelona prefer to visit the immigration offices in smaller towns in the Barcelona area, as it is believed that they don't require a set appointment. However, that is not always true.
You need to bring along with the EX-18 Spanish Residency Application form filled in, your passport & a copy of it, and an offer letter (called Carta Oferta Formal), which your employer can provide you with.
If all this sounds overwhelming, no worries! There are also local paid services that can help you get your NIE without any stress involved. Some companies we recommend are NIE Barcelona or Just Landed BNC.
The NIE services can vary in price, but usually cost around 100 euros. They will schedule an appointment for you, help you out with having all the documents ready, and accompany you to your appointment.
Obtaining a Social Security Number
The steps to get this document are much easier, as all you have to do is go to the Social Security office (Oficina de Seguridad Social) closest to you. Their opening hours are usually between 9:00 am to 14:00 pm. Make sure to bring your NIE, Passport, and the Carta Oferta Formal from your employer. The best part is that you will receive your number on the same day.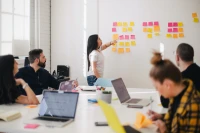 Most Popular Jobs
Barcelona is a city with an increasing number of opportunities for career development. All service sectors are growing, but the most popular positions are in international companies and their respective departments, such as: Sales & Account Management, Digital and Content Marketing, Customer Service, Business Development, IT, and Finance.
Living in Barcelona, you can gain practical work experience through internships as well. Multiple companies are looking for university students or recent graduates, which is a chance to get your foot in the door and work your way to a full-time job. Companies tend to want to keep their talented interns as they've spent a lot of time tutoring them on their company's strategies.
Office / Work culture
Even though many companies in Spain are still quite hierarchically-structured, the start-up community and modern work culture are widely present, especially in cities like Barcelona. The international companies based in Barcelona offer a vivid and friendly atmosphere where teamwork, initiative, and interaction are much valued.
When it comes to dressing codes in an international business setting, most companies go for a semi-formal manner. Nevertheless, make sure to ask your interviewer for tips beforehand, just in case.
The Best Way to Get Around in Barcelona
Luckily for you, Barcelona has one of the best public transportation systems in Europe. There is a large variety of transportation methods to choose from: metro, train, bus, taxi, bicycle, car, scooter hire, and more.
One thing is for sure - you'll never struggle to get from A to B while living in Barcelona. Moreover, if you consider yourself more athletic than average, keep in mind that this city is walkable and it is the best way to explore it and find some hidden gems!
Public Transportation
There are lots of metro stations across Barcelona and there are usually some staff members who are able to assist if you need any help with your ticket or to find out which route to take.
The Barcelona transportation system is organized in 6 zones, which are based on how far you would like to travel (only Barcelona's central areas or further small towns). The ticket prices will vary depending on the zones.
Best ticket prices: T-Casual or T-Usual Cards
Ticket cost: 11.35€
Other details: The ticket will last for 10 rides and can be used across 3 transportation methods, but it can only be used by one person at a time.
Long-term options: T-jove
If you are planning to use the metro every day or even a couple of times a day, you might want to get the so-called T-jove option. This is a personalized metro card for people under the age of 25. The ticket is valid for 90 days from the first validation and you can use it for an unlimited number of journeys for metro, trains, buses, trams, etc.
Ticket cost: 80€
Other details: You don't need to be a resident to use the T-jove. Tourists can get the ticket with their foreign ID/passport number. Once you get the ticket, always carry it with your ID document just in case.
Where to buy tickets: You can purchase all public transportation tickets in any metro station in Barcelona. Every station has a vending machine and all the bigger stations have service centers where you can be further assisted. Another way is to use the website or the TMB App but you will anyway have to take out a paper ticket with your purchase code from the nearest machine.

Photo taken by Juan Galán
Bike Lanes
Barcelona is a very bike-friendly city! The city's infrastructure and the bike facilities on almost every street make biking a safe and enjoyable method of transportation. In addition, Barcelona has a city bike rental system called Bicing. Almost everyone who likes biking around uses it since the availability and the price of the service are very favourable. However, Bicing can only be used by people with a Spanish passport or NIE number. Once you have your NIE and the empadronamiento, you need to register on the Bicing website to obtain your Bicing Card.
There are two tariffs - flat rate and use fee.
Flat rate - 50 euros/year
Use fee - 35 euros/year
Before you are able to use the Bicing bikes as a Barcelona legit resident, you can rent bikes from rental shops that are also easy to find since they are located everywhere across the city. Prices to rent a bike start from 5 euros (the cheapest option) but can vary since the rentals charge on a different basis - per hour, day, week. There are also offers for bike city tours from many tour guide providers.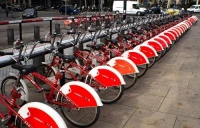 Networking Events in Barcelona
As there is so much going on in Barcelona, you'll have no trouble meeting new people and finding out about different events that are happening throughout the city. Barcelona is flooded with internationals and with such a bustling nightlife, beautiful beaches, leisure centres, parks and more - there's always some activity you can be doing and there are plenty of other people in the same boat as you too.
Websites to meet new people:
Meetups in the city:
Living in Barcelona: Culture and Language
Immerse yourself in the beautiful local culture by attending different workshops, events, and attractions. These events are the perfect places to meet like-minded people in a fun, exciting, and inspiring environment.
Way of living
Some tourists and expats permanently living in Barcelona say that the Catalan people can be hard to handle and rude at times, but stating this as a fact would be wrong and too much of a generalization. Sometimes speaking Spanish might not be enough to make the locals happy since Catalan is the official language in Barcelona. Overall, with its international and extremely diverse population, expect to find people of all kinds - friendly and chatty acquaintances are coming your way!
We recommend you to follow the Instagramer @cynnspired. Cynthia is a Belgian blogger living in Barcelona who shares impressive places to get lost in the city. Her experience as an expat in Barcelona could be very useful and inspiring.
Also, we totally recommend @shootwithjuan on Instagram. Juan is a freelance photographer and videographer from Bogotá (Colombia) who has been based in Barcelona for over 10 years. With his camera, you will discover new impressive places while enjoying exceptional and inspiring photography.
Language
As Barcelona is such an open, international city, full to the brim with expats, English is a popular language used throughout the city. In the summertime especially, the city is flooded with tourists and people from all over the world, so you can get by with even the most basic English.
However, to truly immerse yourself in the city, it's important to take part in some language classes and try to learn some Spanish. If you are feeling up to a challenge, try learning some Catalan, too! There are different methods of learning Spanish, whether you prefer to take a course in the evenings or to use an app, we have some suggestions for you…
Language tools
Language schools
Useful phrases
Here are some phrases and common sayings to help you get around easily and sound like a local:
Plegar (verb) - to finish work
For example: "Hoy plego a las 4."
Which means: "Today I stop working at 4."
Cap problema! - No problem!
Pixapins - this is how people from outside Barcelona call Barcelona residents. This word literally translates to people who piss on pines.
Bikini - this is how Catalan people call the grilled cheese&ham sandwich.
Salut i força al canut - this is how Catalan people say goodbye and cheer each other with a drink.
Apa - is what you say to cheer someone back with a wish for good health and money.
Social Events and Holidays
It is probably not surprising for anyone that this city loves to celebrate it all. Life in Barcelona is definitely busy: locals keep the calendar busy with holidays to spice up the yearly routine. There are in total 14 days throughout the year that are part of Barcelona's public holiday calendar. This includes national, regional in Catalunya and Barcelona-based holidays only. You can check the full list, but here is a brief presentation of the most important ones:
Sant Jordi (23rd of April) - Saint George's day is the most romantic day in Barcelona. Love is literally in the air! The air is full of books' and roses' scent. By tradition, men buy roses, and women shop books for their loved ones.
San Juan (June 23rd) - San Juan is a festival that welcomes the summer season or the so-called summer solstice. The shortest night of the year, it brings everyone to the beach for a magical experience with roaring bonfires, drinks, food, and friends.
Live the City Life: Fun Things to do in Barcelona
Food Places
Food in Barcelona is amazing, and there are so many options to choose from. Whatever your food preferences are, you will encounter countless restaurants in all areas. There are some tourist traps you should be aware of, though. Note that some central locations in Barcelona will be quite pricey, but not as worth it. La Rambla, for example, is not the best place to spend your food budget on. Here are some recommendations that food lovers should not miss out on:
You need to try Pinchos!
Pinchos are small snacks typically served in bars. It is basically bread with all sorts of extra delicious things on it. There is usually a big variety of combinations to choose from. You go around in the bar and grab the pinchos heart from the first sight.
In Barcelona, the best Pinchos experience is to be found at Carrer de Blai. It is a street full of bars with this type of snack, cosy atmosphere, and affordable prices. A piece of pincho will cost you between 1€ and 2€.
Brunch is a thing in Barcelona!
One of the biggest food trends in BCN is definitely Brunch! Sunday is the time to see your friends again after a night out and enjoy a brunch reunion. Many of the good and most popular brunch places require reservations on weekends or you are most probably about to spend at least an hour queueing for a table. Try to get yourself a table at Billy Brunch or Eixampeling Brunch Café & Bar.
Photo taken by Juan Galán
Paella time
No need to say Paella must be on your list of dishes to try! Even though it originates from Valencia, there are plenty of great paella restaurants in Barcelona. You can start your paella experiences in locations like Colom and Restaurante Arume.
Museums, Theaters, Galleries
Cultural life and events are a part of Barcelona's identity. Museums of all kinds can keep your cultural calendar busy for a while. If you like this sort of leisure activity, make sure to explore the list of all museums and make a plan based on your particular interests.
Speaking of culture, a great place to have a cultural evening is the Tinta Roja Theatre. This is a popular English language theatre scene in Barcelona where you can enjoy comedy or play nights.
Nightlife
Barcelona is the place to be when it comes to partying and nightlife adventures! There is something for every taste. Bars can be found on every street corner. There are also many events on hotel rooftops or big club nights at the discotecas near the beach areas. Some districts to start with are Las Ramblas and the Gothic Quarter.
Photo taken by Juan Galán
Beach / Mountain activities
Many of the people who have experienced life in Barcelona for a while will tell you that Barceloneta is definitely not their first choice for a beach day. Of course, it is an experience you probably will not go without, but there are other places that are worth your attention. For example, Sitges is a place just an hour away from Barcelona by train and has a lovely and calmer beach vibe.
For those who prefer mountains above all, Montserrat is a must. The mountain range near Barcelona with its extensive natural park and famous Monastery can get you some walking to a more extreme climbing experience or just a chill car lift day in the mountains away from the city. Inside the city, Montjuic and Tibidabo are also beautiful hills to walk up on a day tour.
Sports
You can most definitely keep yourself busy with sports of all kinds in BCN. Not surprisingly, football is played in every neighbourhood, and in the not-so-hot months, many use the coastline to do some jogging.
If you are into tennis, Barcelona has something new for you to try. Have you ever heard of Padel? It's a combination of tennis, squash, and badminton. It seems that it is one of the most flourishing sports activities in Barcelona.
If you prefer the gym workout, you will be happy to know that there are great deals on gym memberships in the city. A popular fitness membership choice is Dir. Prices can vary depending on visiting hours and the different services included, but with 35 euros, you can have a good deal for the everyday gym and swimming pool passes.
Moreover, if you don't mind getting sandy, beach volleyball can always be a fun sport and an alternative to your daily activities. Literally every day of the week & weekend, you'll find volleyball nets and teams playing at the beach.
Shopping
For some outdoor shopping, stroll down the Passeig de Gràcia and some of the big streets around Placa Catalunya. There you could also visit the Spanish department store El Corte Inglés. It is a mall with luxurious brands and goods, but make sure to check every now and then for discounts. Keep in mind - most of the shops are closed on Sundays!!
Furthermore, there are many local markets selling food and drinks where you can buy tasty souvenir-type foods and try some yourself. Visit the market or the famous The Mercat de Sant Josep de la Boqueria.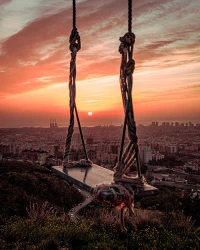 Photo taken by Juan Galán
The Cost of Living as an expat in Barcelona
Rent
Accommodation costs may vary according to the area and your living conditions. The prices for a room start from around 350€ and the budget for an apartment is a minimum of 750€. Many who relocate to Barcelona decide to look for accommodation on the spot. It is recommended to get a short-term solution such as Airbnb to look around and actually visit your potential new home before you decide on it.
When looking for an apartment, be aware of:
Some popular ways to encounter options are Badi, Idealista or facebook groups such as the Pisos y habitaciones de alquiler en Barcelona.
Utilities
Usually, prices for rooms include the utilities, but it also depends on the contract that the owner is offering. Read carefully, ask and discuss utility terms with the company or owner that is offering the accommodation service. An average bill for wi-fi would be around 30€.
Food and Groceries
In every neighbourhood, you will find big and affordable supermarkets like Mercadona, Lidl, or Aldi. The small fruit and veggie stores also on almost every street have fresh goods and affordable prices for your weekly menu.
Just so you know, buying alcohol after 23:00 is illegal and even though there are many late-night small shops, you can only get a drink from a bar or restaurant if you haven't secured the booze in advance.
Here is our estimation for a 1 week of shopping for 1 person: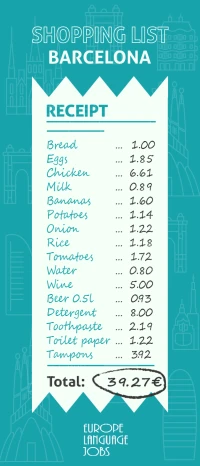 Medical care
In order to receive medical help in Barcelona, you would need to arrange your Health Insurance card, called CatSalut. According to your address, this needs to be done at one of the Primary Care Centers or the so-called CAP. To get it started, visit the following website. There are a couple of steps to undertake online before picking up your CatSalut.
The necessary documents to obtain your medical care allowance are your NIE, Social Security Number, and the Empadronamiento document from your landlord. Once you completed the procedure, the card should be in your post box in about 2 or 3 weeks.
It is free to have a doctors' visit in a public hospital but you may have long wait times to see a doctor. An alternative option is to get international health insurance so you will have access to private hospitals and be treated faster. In most cases, it is also free to visit a dentist for an emergency; however, you can choose to use private services which can cost you around 20€ - 40€ for a diagnostic visit.
Can you describe the perfect city in a word? Let us help you - Barcelona! This city has it all! As we went through all the details, let's have a quick rehash. Barcelona is full of life and opportunities to grow professionally - in short, work-life balance at its finest. In this vibrant city that never sleeps, you are never bored and out of options to keep on advancing in your career.
What is your favourite thing about Barcelona that will definitely make you consider moving to Europe's most desired destination for expats? Let us know in the comment section below.