Moving abroad can be an intimidating task to take on, but it helps to remember that you´re not alone and help is out there...
I won´t say all of us have been there but many of us have, and have had to go through the same things you will. You will no doubt reach a point where you´ll start questioning what on earth you´re doing. Just remember that it's totally natural when you first move abroad and it will pass.
Some of these things you can get started with before you leave but the likelihood is that you will be incredibly busy juggling a hundred and one other things, so cut yourself a bit of slack.
One piece of advice that will make your life ten times less stressful, but might be more down to luck than anything, is to move to a place where you already have someone you know. This can provide you with emergency accommodation, advice on paperwork, language assistance and even just reassurance for when the first bout of homesickness kicks in.
Let´s get started…
Moving abroad: 6 step guide:
1) Organise Accommodation
If you're moving abroad with and for a job, then many companies, especially multinationals, provide accommodation for their new employees for around two weeks, which, if you´re committed to it, should be enough time to find a place to live. People go about organising accommodation in different ways and it totally depends on your situation. For Erasmus students there is a lot of help from companies such as Spotahome, as well as support from the universities, but for the rest of us things might not be so easy.
Facebook groups are increasingly popular, speedy and an effective way to find spare rooms and avoid agency fees. However, be very aware that Facebook is a much easier platform for scammers to work on. Also, someone may be subletting you a room illegally, which may be fairly common practice and although you are unlikely to be liable should they be found out, you may find yourself without a room literally overnight.
One thing that is essential is that you view any accommodation before you sign or pay anything. In a strange country you need to be sure of what you´re getting into and you can be sure that there are people who take advantage of expats and foreigners in every city. This means that you might want to avoid the temptation of getting too involved in the house hunt before you arrive at your destination. If you are really organised then maybe you could hit the ground running and arrange some viewings prior to your arrival.
The one exception to not being in the country and organising accommodation would be if you have a close, committed and trusted acquaintance to do the work for you. But even then there is only so much they can do.
Depending on the city and country you´re moving abroad to, the ease of finding a place to live varies. Spain, for example, has a lot of resources to help people find accommodation, but in cities like Barcelona, Paris and London, the competition is so intense that prices have been driven very high and available rooms are few in number.
Many people spend the preliminary state of limbo in an Airbnb or a hostel, and having cheap options is great, but the practicalities quickly become frustrating and the cost of living in this way can drain savings very quickly.
If you are lucky enough to have a friend in the city you´re moving to, then you may be able to stay with them.
2) Be Legal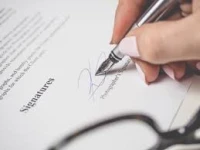 If you're moving abroad having already secured a job, then the relevant documentation is something that many companies will provide you with, or at least guide you through the often long and complicated process.
The sooner you get your papers for the country you´re moving to, the better. It is true that the policies vary between countries, but there are likely to be many things that you can't do until you are registered, including open a permanent bank account and signing for a house.
As Spain receives one of the highest numbers of expats, we will stick with that example. In Spain you need a NIE number to work and to sign for a house (officially), but they are notoriously difficult to get,. Not in terms of legislation but most people have to make 3 or more trips to the police station or Oficina de Extranjeros (foreigners' registration office) before they walk away with the card.
Be prepared for the people behind the desks to not speak English in whatever country you´re in. It would be a very good idea to take a speaker of the language with you to hugely speed up the process.
3) Get A Phone

Nowadays there is one more thing on the list of absolute essentials, and that is of course a working mobile phone. Trying to live an everyday life in the modern world in most countries in Europe is made incredibly difficult by not having a mobile phone. Finding a job, renting a room, getting from A to B and. if you're in a foreign country, translating things are all done with a phone in today's world.
So this should be high on your list of things to get organised when moving abroad. Nowadays you can get a monthly or temporary SIM card to slot into your phone (assuming that your phone is unlocked) very easily and very cheaply. As one of the easiest to achieve and most essential first steps of making yourself at home in a new country, you have no excuse for not getting it done.
Free wifi in many public places means that it is easier to stay connected but you can be sure that when you really need it, you won´t be able to find a wifi. It can also be dangerous to be wandering around a strange place with no way of contacting anyone or being contacted and once you have a working phone it will make all your other tasks that much easier to complete.
4) Set Up a Bank Account
If you´re hoping to be paid at any point during your time in this then setting up a bank account is essential. However, even though this is one of the most important tasks to complete, it may have to wait until you´ve accomplished some of the others. For this you need to allow yourself lots of time and patience. Again, advice from anyone who you may know or meet who has done it before could make the process much easier and less awkward.
While you're waiting to open a bank account you need to make sure you have enough money to live. This probably means having quite a bit of stockpiled cash. It would be a good idea not to carry it all around with you at one time and when you're out and about, be aware that your status as an outsider is very likely to be easily noticed. Be suspicious of everyone. Getting all your belongings stolen in the first week could be disastrous.
One piece of advice when going to the bank: take everything that they could possibly ask you for to reduce the chances of needing to make a second trip. That means: passport, driving licence, housing contract, contract of work, definitely your brand new documents proving that you´re legally in the country and anything else that you can think of. In a worst case scenario, you can throw everything you have at the poor person behind the desk and put "I want to open a bank account" into Google Translate. See our list of 10 essential apps for travellers for more useful apps to make sure you have on your phone.
Like looking to secure the best of any service, the key is to shop around. Don't just wander into the first bank you see. Without the local language this may prove difficult and time consuming, but it is a must-do if you're looking to acquire the best deal, and avoid unnecessary fees. If language is a problem, consider moving to an English speaking country such as Germany or The Netherlands where around 70% of the population speak fluent English.
5) Remember Your Health
Anything can happen, especially when you're in a place you don't know, no matter how careful you are. It's simply not worth moving abroad and taking unnecessary risks, like not having some kind of cover in case you need medical help. If you're a citizen of Europe, then the minimum you should have is the EHIC (European Health Insurance Card).
This will cover you for any accidents, but as soon as you're legally working in the country you will have to make alternative, more permanent, arrangements. You'll have to register with a doctor but this will not be one of the first things you do so you will probably need both a housing and work contract.
It is well worth reading up on the health system before you move to wherever you're going, as the more information you arrive with the less time it will take you once there. There are expat forums, information on government website and online question answering services such as Quora that you can use to get clued up and save yourself the stress later on.
6) Learn the Language Basics
A little can go along way when it comes to language. If you're reading this article then I'm assuming you have a high enough level of English to be able to communicate in most countries. However, English is not always enough, especially outside the big cities. Even if the locals do speak English, which one should never assume they do, then you will be rewarded for making the effort in the country's language and people will take you more seriously.
Many people, myself included, move to a country specifically because they want to learn a language. But even if that was not your key motivation, it would be wasteful not to add a new string to your linguistic bow. I can guarantee you that leaving a country after a long time, without learning the language will haunt you for life.
App such as Duolingo as well as free online resources make learning the basics very easy, but maybe you will need something a little more detailed and in depth once you're settled.
The key to language learning is to enjoy it. Don't force it but put yourself in situations where you have to use it and absorb it. That means, TV, music, radio, books and most of all you should surround yourself with locals and arrange language exchanges. If you haven't heard of these, they are when two people who want to learn each others' languages arrange to teach each other without any money changing hands – perfect for anyone on a budget! This can be done by one person speaking in the other's native language and vice versa, or a set amount of time in one language before switching to the other.
If you can walk away knowing a new language it is a trophy that, you will not only be proud of, be that will make you hugely more employable, however, simply learning how to greet and thank people is very little effort and will go a long way.
Hopefully this information will ease the transition process and help you settle into your new country of work. If you're thinking of relocating then be sure to check out our series of relocation guides to help you relocate to Germany or if you're after warmer climates check out our guide to relocating to Spain.
Our final piece of advice is to squeeze every experience you can out of your time abroad as possible. You made this decision after (hopefully) a lot of careful thought and therefore you should be sure that it is what you want to do. Prepare yourself for those pangs of doubt that will inevitably slip into your mind sooner or later and remember why you wanted this in the first place – just enjoy it!
Still thinking about moving abroad to start that new adventure? Register at Europe Language Jobs to find yourself a job abroad and see what we have on offer in your dream destination!