Are you searching for an Internship abroad? It's time to discover the Top European Cities for Internships in 2020...
Whether you are studying at University, planning a year abroad or you simply want to gain some valuable experience in your desired industry, internships abroad provide key industry experience and can help to give your CV a boost when it comes to searching for a job.
For those of you who love to travel, completing an internship abroad is a great way of gaining work experience, learning industry-specific skills but also experiencing new cultures and lifestyles in different countries - all at once!
Whether you are looking to move abroad in the next couple of months or planning for the summer of 2020, there are some must-see destinations with exciting internship opportunities that we recommend moving to next year…
1. Barcelona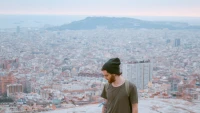 Barcelona is an extremely popular tourist destination but many tourists end up settling here due to how much of a liveable city it is. Barcelona is close enough to the beach, the mountains but still remains cosmopolitan, which is why Barcelona appeals to almost everyone!
The Spanish lifestyle is indeed a desirable one; the Sangria, the Tapas, Flamenco dancing, Gothic history, Gaudi's architecture, Art and Music culture and more.
Another bonus is that the residents of Barcelona know how to put on a fiesta! Of course, this shouldn't influence your reasons for moving somewhere to study, but the fun, international atmosphere is a nice way to meet new people.
If you don't speak Spanish, you may think that moving to a Spanish-speaking country can be somewhat intimidating, but due to the international population, a lot of people speak English and other languages. It's also a great place to start learning Spanish, with so many internationals in one place, there are so many Spanish language schools, language exchange groups and more.
Barcelona is the best place to complete an internship in 2020, check out the current internship opportunities in Barcelona.
2. Amsterdam
Amsterdam, a small yet culture-rich city, filled with Internationals. Amsterdam has a good work-life balance and a considerably higher quality of life compared to other European capitals. Amsterdam made it to number 11 on the list of most livable cities this year, due to lots of different factors including education, economy, health care, safety, housing and more.
Amsterdam is aesthetically pleasing, thanks to the pretty canals, remarkable architecture, and spacious parks, it remains the perfect place for a bike ride! If you are conscious about being eco-friendly, Amsterdam has been an eco-friendly location for a considerable amount of time but in recent years has become even greener.
An added bonus if you are an English speaker, is that English is widely spoken all around Amsterdam, which makes communication and getting around considerably easy, even for those of you who just know basic English. If you are planning to settle in Holland after your internship, we highly recommend learning dutch.
There are so many reasons why you should move to Amsterdam to complete an internship in 2020. Check out all of the internship opportunities in Holland now.
3. Berlin
Well, Berlin - where do we begin? If the nightlife isn't enough to persuade you to move here, then the rich history, cheap beer, greenery, architecture, and growing art culture, should be enough...
Just like Amsterdam, Berlin is a very eco-friendly city, one of the greenest in Europe. With a strong economy and low unemployment rate, Berlin is perfect for those of you looking for somewhere to settle and progress within your career.
With such a high electronic music influence, the population in Berlin is extremely international and over the years, a lot of young expats have moved here from all corners of the world. Berlin has adopted aspects of different cultures from Bohemians, Hippies, Artist and more.
Although the German language may seem difficult to those of you who have little to no knowledge of the language, the German language remains one of the most valuable languages when it comes to finding a job, so it's worth adding to your CV.
If you are looking for a new home where you can feel constantly inspired and motivated by the success of the younger generation, Berlin is the one. Check out the current internship opportunities in Berlin and find accommodation in Berlin.
4. Lisbon
Lisbon is a beautiful, colourful city bursting with history, culture and creativity. The amount of young internationals living and working in Lisbon has increased considerably in the past few years. Year after year, Lisbon is named as "one of Europes hottest destinations". It's a beautiful city surrounded by great restaurants, bars, festivals, beaches with good weather and architecture, it's no wonder so many young people settle here.
Thanks to the increase in young professionals over the years, there has been a significant rise in their freelancer community and startup companies, there is so much creativity in one city and so many opportunities for young professionals.
Yes, the Portuguese language may seem like a difficult language to learn, especially if you have little to no knowledge, but over 50% of the Portuguese population can speak a good level of English, followed by Spanish and French too.
There are so many reasons to move to Libson in 2020 and complete an internship. Check out the exciting opportunities in Lisbon our job board.
What's next?
Wherever you decide to move, there are a number of things you need to take into consideration. It's not enough to just fly to a country with all of your belongings and hope for the best. There are some things that you need to organise in advance to make your transition easier...
Connect with people beforehand! - This is one of the most important things to do, it's nice to know that you are moving somewhere where you already 'know' a few people, even if it's just connecting with people online, you never know… this person may become a good friend of yours!
Accommodation - We know the struggle of trying to find accommodation, it can take ages to find somewhere to stay especially if you are trying to do it from another country. Our best advice to book yourself into a hostel for a week or so, and book some viewings for when you first arrive there. This gives you the opportunity to go and look around areas, see what it is available and most importantly, it diminishes the chances of you getting scammed. If you desire a hassle-free and seamless experience in finding the best and pocket-friendly accommodation then you can get in touch with amber to do the work for you! For instance, if you're looking for student housing in Barcelona, they will help you with 24/7 free and personalized assistance in locating your ideal home!
Finance - It's best to avoid any dilemmas, especially when it comes to money. Before you move, set up an online bank account, these are desired for travellers and will help you to avoid paying any unwanted fees too. What's more, you can even get paid into some of these accounts!
Phone - Just like a bank account, having no access to data or a network can cause some unwanted trouble, especially if you are lost or need to urgently contact someone. Before you leave, order a sim card or pocket wifi, this way you can stay connected wherever you are!
Luggage - If you are moving alone, it can be such a struggle trying to move all of your things at once, especially when your luggage starts to pile up and it becomes nearly impossible to transport that kind of weight on your own. Well, we discovered an amazing service that delivers your luggage for you across many places in Europe.
Internships are extremely valuable and nowadays, some companies and employers see Internship experience as more valuable than other qualifications. By completing an internship abroad, you will demonstrate motivation, courage and determination. This experience won't only benefit your CV, it will benefit your life in many ways, from learning new languages, meeting people from all over the world and experiencing other cultures firsthand.
Where will you move to during 2020? These are just a small selection of exciting cities with Internship opportunities in Europe. Discover the other opportunities here.