Living in Budapest: The Ultimate Expat Guide
Thinking about relocating to another European city, Budapest probably doesn't top your list of destinations. However, did you know it is dubbed the "Paris of Central Europe"? Hungary is not the most popular choice among expats, but we're here to change that. Come with us on a tour of this charming city with a UNESCO Heritage Site Status, and discover why it is the ideal destination you never knew you'd dream of.
1. Working in Budapest, Hungary
5. Fun Things to Do Around the City
6. Cost of Living in Budapest, Hungary
Working in Budapest, Hungary
Finding a job in Budapest used to be (and can still sometimes be) challenging without a basic knowledge of the language. However, given the dynamic nature of the Hungarian market, finding work in English has been becoming significantly easier. A common practice is to find work at an international corporation somewhere else and request to be transferred to Budapest. In general, EU citizens will find it much easier to find employment on the Hungarian market than those coming from outside of the European Union or the European Economic Area.
Useful Job Boards When Living in Budapest, Hungary
While looking for a job in Budapest, we advise you to be thorough and use as many job hunting methods as possible. If you don't speak Hungarian (and if you do, congratulations, the language is HARD!), then the Europe Language Jobs platform is definitely the place to start your search for a multilingual job in Budapest. International websites, such as LinkedIn are popular among job seekers in Budapest, but you could also try joining various Facebook groups, for example Work in Budapest, Best Jobs Hungary Budapest, or Multilingual Jobs in Budapest.
Other useful job boards:
Surprisingly, looking for job offers in the local ads sector, for example in newspapers and magazines, is still a widely popular method in Budapest. As a vast majority of them are written in Hungarian, you might need someone who will be able to translate them for you.
Sectors & Languages In-demand
The business sector in Budapest has been dynamically developing over the recent years. The sectors in the highest demand are currently electronics manufacturing and research, technology, telecommunications, tourism, and IT. The most sought-after languages by employers in Budapest are English, Dutch, and especially German.
Starting your own business
The main obstacle of ambitious entrepreneurs entering the Hungarian market is - you guessed it - the bureaucracy. In Budapest, it can get particularly complicated, something that even native Hungarians admit. It is important to point out that wanting to launch your own business in Hungary, even if you plan to work on your own, you will need some help in the beginning stages. Mainly - to help you deal with the Hungarian, in which all of the documents are written.
Expat entrepreneurs in Hungary usually advise the new players joining the market to have an attitude, given the direct nature of Hungarian business. But to be completely honest - where in the world don't you need an attitude while running a business - and especially while starting one from scratch?
The Hungarian market is undergoing its economic boom. New sectors are opening up, and there are still a lot of niches left to develop. Now is as good a time as any to start your own business in Budapest.
Working Culture
Budapest has a very traditional working culture when it comes to certain industries. Nevertheless, if you work in an international environment, the business attire can be quite flexible.
When it comes to business relations, Hungarians are a very direct nation - they see no point in beating around the bush and are allergic to ambiguous language. Hierarchy and status matter - you must show respect to your supervisors. Punctuality is highly important, cancelling a meeting last-minute is very frowned-upon and might heavily impact future business relationships.
On the other hand, Hungarians also enjoy associating with their business partners and getting to know them. Fraternizing with potential future cooperators over a meal is a common practice before any formal talks take place in the meeting room. So just arrive on time, polish your shoes, enjoy your meal, and everything will be fine!
Work Permit in Budapest
EU and Schengen Area citizens can apply for a job in Hungary in the same way Hungarians do. Yay! They will only need a registration card and a registered address (I'll explain all the details concerning that soon).
Anyone from outside of the EU or Schengen Zone will need a combined residence and work permit to be able to legally work for a Hungarian employer. The employer themselves must gain permission from the labour office to hire a foreign employer, so usually, they will assist you with the process. This being said, the good news is that you won't be alone in it!
Steps to take
The first thing to note is that the procedure can take up to 70 days, so make sure to not leave it for the very last moment. Be aware that to accept your application, a Hungarian employer is required by law to advertise their opening in the Hungarian Labour Office for 15 days, to give unemployed Hungarians a chance to apply first.
The documents you will need to collect to apply for your work permit:
identification document (passport)

proof of residence in Hungary

proof of valid health insurance

proof of employment in Hungary (preliminary labour contract or a letter of intent)

*you might be asked to present your bank account balance to prove that you will have sufficient funds for the duration of your stay.
The permit will be valid for 2 years, and can be easily renewed if your relationship with the current employer still exists. Please note, however, that in case of changing your employer, you will need to apply for a whole new work permit, a.k.a. go through the entire process all over again!
Thanks to the process called "family unification", the spouse and underage children (below 18 years old) of the expat obtaining work permit in Budapest will be able to easily apply to become Hungarian residents as well. The process can be started as soon as the main applicant has received their work permit, and the residency status will be valid as long as the permit of the main applicant, too.
Other visas
Nationals of countries that are members of the European Economic Area and European Union* are allowed to start their employment in Budapest with just their passport - no visa needed. All the others will need to obtain a Schengen visa. Its processing time can vary so we advise all expats to apply for their visa as soon as possible at an embassy in their country. Documents necessary for a visa application:
identification document (passport)

letter of invitation from a Hungarian employer stating the expat's duty in the country

proof of employment in Hungary (so no, you unfortunately cannot apply for a visa in advance, you already need to have a job secured to get it) eg. signed employment contract

proof of residence (a registered address in Hungary)

proof of valid health insurance

an indicator the expat will return home after the given period in Hungary
*Non-EU countries that don't need a visa to work in Hungary: US, Switzerland, Canada, Australia, and Brazil.
Residence permit (regisztrációs igazolás EGT-állampolgár részére)
Yes, this is what I'd mentioned earlier, promising I'll explain more soon. The time has come. This applies both to EU and non-EU citizens, so listen up, everyone!
EU/EEA nationals: a residence permit can be obtained at the Office of Immigration and Nationality in Hungary upon arrival. This should be done within 93 days (because even numbers are just passé) of coming to Hungary. The documentation required depends on the purpose of staying in Hungary. After being given a Residence Permit, EU citizens will be given a Residence Card (lákcímkártya) and the Address Card will be posted to them.
Non-EU citizens: the residence permit is required for any foreigner intending to stay in Hungary for more than 90 days. The difference for those from outside of the EU is that they need to apply before entering Hungary. So, this is where it gets a bit twisted.
Why?
Because you need a visa to enter Hungary, and to obtain a visa, you need a registered address, which you can only obtain in Hungary.
So. What do you do?
Don't worry, luckily, the authorities sympathise with you (this one time, at least) and have come up with a solution. Successful applicants will be granted a single-entry visa, valid for 30 days, to go to Hungary and collect their permit. The permit allows you to apply for address registration (a document necessary for your visa application), is renewable and valid for 1 year.
Important for everyone: to be able to fully work legally in Hungary, you will also need a tax card and a social security card (TAJ-kártya). You can apply for those once you are the happy owner of your residence card.
Getting Around the City
In Budapest, there are lots of streets with the same name, but which are located in completely different parts of the city. It is the result of the city growing by attaching smaller towns and villages around it over the years. Note: there is a difference between út (road), utca (street), tér (square), so be careful when planning your way, especially as a newbie!
On the screenshot below, you can see just how big the difference can be - shown on the example of Váci utca (Váci Street) and Váci út (Váci Road). Be careful!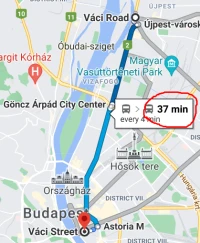 Public Transport
Many consider Budapest the best-connected city in Europe. The public transport here is praised far and wide, and not for no reason. Managed by the Budapest Transport Limited Company (BKV), it is inexpensive, easy to use, and punctual.
The tickets are valid for all means of transport - metro, buses, trams, trolleybuses, and trains. Different ticket options are available, though as usual, the long-term ones are the most cost-effective. There are discounts available, for example for students and pensioners. The tickets can be bought at kiosks at the stations, ticket machines, and newspaper stands. However you buy them, though, do buy them, because ticket checks are widely popular (even at night)!
Use the BKK app to navigate through all of the means of public transport and plan your routes like a local.
Buses - The most popular choice, as they are one of the fastest means of transportation (save for the metro). Some bus routes reach further than trains - another reason behind why they're a common choice. City-to-city bus tickets can be bought directly from the driver.
Trams - There are over 25 tram lines spanning across Budapest. The lines 4 and 6 run 24/7 and cover most of the city centre. Trams in general tend to be slower than buses and are less popular among the locals, but tourists love them for the scenic routes and their special climate.
*Helpful advice: If you take tram line 2, you can enjoy a scenic route showcasing the historic sites along the Pest Embankment. An enjoyable touristic tour for the price of a regular tram ticket!
Metro - Has 4 lines (4 being the most modern, recently built one, 1 being continental Europe's oldest underground railway, established in 1896!). Lines 1, 2 and 3 connect at the Deák Tér station in central Pest. The metro operates daily from 5am until 11pm.
Trains - Operated by the Suburban railway lines (HÉV). Tickets for travel within the city are usually available directly on trains. For travelling to the outskirts of the city, make sure to purchase your tickets at the train station. Budapest is so well-connected by railway with other European countries that they are often picked over airplanes due to the lower price of tickets and bigger convenience.
Cycling - Regarding the popularity of cycling, Budapest is comparable to Amsterdam and Denmark, the cycling hubs of Europe. The healthy lifestyle of using a bike as a means of transport is facilitated here by many cycling paths and multiple renting schemes.
Taxis - The Budapest-centred ones are always painted yellow. If you'd rather opt for another ride sharing service, they are a bit limited by the Hungarian authorities, but Főtaxi and Bolt/Taxify still operate. They are often preferred over regular taxis for their stable rates. In Hungary, the taxi decree regulates the price of taxis at a fixed tariff of 300 HUF/km (0.95 EUR/km), in addition to a one-off basic fee of 700 HUF (2.2 EUR) and a waiting fee). Still, regular taxi drivers tend to overcharge foreigners, so make sure they turn the meter on and that there's no funny business going on.
Budapest Taxi Services
Budapest Taxi

6x6 Taxi

Taxi Budapest

Fotaxi

City Taxi
Driving - Everyone who has been in Budapest for a while will agree that owning a car in this city brings more trouble than benefits. The traffic is heavy, and parking is problematic (and costly!). Some say that the Hungarians are well-known for their rather erratic driving nature and the general tendency to ignore most road rules. Others don't agree with that statement but still, we would advise you to stick to public transport - which is so well-developed, we guarantee you won't miss a car, anyway!
In case you do insist on owning a vehicle, if you're coming from an EU country, you will be able to drive in Budapest using your country's driver's license indefinitely. Non-EU citizens are only allowed to use a driver's license issued by their home country for 1 year, then they have to get a Hungarian one.
Expats also need an e-vignette to be able to use Hungarian motorways. They are available for the period of either four days, one week, one month, or a year.
Estimated costs of car maintenance in Budapest:
Parking: 60-70 EUR or 140-160 EUR per month, depending on the location

Insurance and related costs: 235-265 EUR per year

Petrol: 1.09 EUR/litre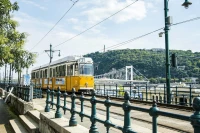 Budapest Airport
The travelling time to Budapest Ferenc Liszt International Airport (BUD) varies between 30 minutes up to 1 hour by car. Public transport provides easy access to the city center from the airport. The bus stops are located on the arrivals level, between the two terminals. Use the journey planner to plan your trip in advance.
Bus - Direct bus service 100E operates between the airport and the Deák Ferenc tér stop in the city centre. It departs every 30 minutes, every day between 4:45am and 9:00pm. Disclaimer: Passengers require a special ticket for bus line 100E - the airport shuttle bus single ticket costs 900 HUF (2.54 EUR). Other types of tickets or passes are not accepted on this direct service. Tickets can be bought through the BKK app or from the driver.
Bus line 200E operates all day long between Terminal 2 and Kőbánya-Kispest metro station; at night the route is extended to Határ út station. BKK tickets, multi-day travel cards or passes are required for travel. Because it's not direct and makes many stops on the way, it's cheaper than the 100E line: tickets are around 350 HUF (0.99 EUR).
Train - The closest train station to Budapest Airport Terminal 2 is Ferihegy (20 mins by the 200E bus), with trains operating to and from the Nyugati railway station in Budapest. Train tickets are not available for purchase at Terminal 2. However, trains operating between the Ferihegy train station and the Nyugati railway station may be used with BKK passes free of charge. You can buy train tickets directly at the station.
Főtaxi - A ride to the city center should typically cost around 7200 HUF (26 EUR), depending on traffic conditions.
Minibus - Direct and comfortable, fees start at 4000 HUF (11.33 EUR).
Housing in Budapest
Flat hunt
Accommodation in Budapest is generally more affordable than in other European capitals. However, given the lower salaries, the prices can still seem high for someone living there and earning according to the local standards. The best time to start searching for a flat is pre-season, in January/February. Bear in mind that the market goes to sleep around November, and it's more difficult to find a place to live then.
Flats are the most popular type of accommodation. Budapest has a lot of community-style houses in the centre - large buildings made up of 3-5 flats per floor, with an internal courtyard with balconies facing inwards. What expats should be aware of is that the older buildings are more expensive than the modern ones due to their high ceilings and nice decor. It is common that the outside of the building won't look very appealing, but the flats inside will be nicely renovated and in a good standard. Look for the buildings which are already renovated and avoid the ones currently undergoing renovation (it can be a headache - quite literally).


Helpful websites for finding accommodation:
Fees
It is very important to note that rent in Budapest doesn't include utilities. You should expect an additional 100-120 EUR/month. It is common for an average Budapest resident to spend more than 50% of their salary on rent and utilities combined. Signing a contract, you will usually be required to pay a deposit (kaució) of two/three months' rent's worth.
An additional fee some expats might not be aware of is the so-called "common cost". It is paid by every inhabitant of a particular building and covers its general maintenance, like cleaning the common areas, bin collection, and recycling. Expect it to be between 50 and 60 EUR per month, depending on the building and what exactly is included in the fee. Each building has a person overseeing these things - it is usually the person who waters all the beautiful plants decorating the hallways in Budapest's townhouses.
Where to live? Districts in Budapest
Budapest is divided into 23 districts and two main parts: Buda and Pest. You can find a more detailed description of them here.
Buda, West Bank of Danube (6 districts) - a more common choice among families seeking a quiet lifestyle and a peaceful area to raise their kids in. If you're looking for a house, here is where you'll find it - some of them even have small gardens attached to them. Commuting to Pest (where you'll most likely work) can be a pain in the neck, depending on how far into Buda and away from the industrial district you've chosen to live. The preferred districts of Buda are 11 and 12.
Pest, East Bank of Danube (16 districts) - the 'city' part of Budapest containing most of the offices. It is a popular choice among young people as it's urbanised and lively due to the many cafés and restaurants located there. It is also the nightlife hub, so be prepared for a bit of noise. Districts 5, 6, 7, and 13 are favoured by expats.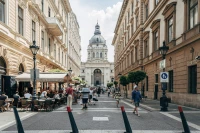 Budapest townhouses (definitely some of the nicer ones)
Living Like a Local
People
There are national stereotypes, and there are general descriptions of a nation as a whole. Here, we will stick to the latter, based on the observations of many expats from various corners of the world who have spent some time among the Budapest citizens.
So, what are the Hungarians like?
An expat from Canada described them as much nicer than people from her home country. Many of them say good morning, which can be a positive accent to everyone's day - especially in the winter, during which the Hungarian days aren't very long. The society is quite homogenous, with locals constituting nearly 98%, though recently, more and more expats have been deciding to make it their new home.
The people tend to complain a bit, and it is a common observation that you don't see them smiling in the streets very often. Just like the citizens of countries sharing Hungary's history of having been consumed by the Eastern Bloc, they explain their gloomy nature by their not-so-positive past.
Another trait that the Hungarian people that expats seem to agree on is their directness. Not only do they like to get straight to the point, but they also don't hesitate to ask personal questions. Eye contact is valued, and handshakes are popular - between a man and a woman, a handshake should always be initiated by the woman.
Useful Facebook groups for meeting new people and seeking expat advice:
Language
Hungarian as a language is quite difficult. The main difficulty is that it's not really similar to any other language, which makes communicating complicated, even for multilinguals. If you wish to catch a bit of Hungarian before you go, this website is a bit on the old side, but it's very helpful to understand the basics.
Useful phrases in Hungarian
Szia (see-ya) / Sziasztok (see-ya-stock) - hi/hello/bye
Hogy vagy? (hodj vadj) - How are you?
Köszönöm, jól. (keu-seu-neum yohl) - I'm fine, thank you.
Igen (eeghen) - yes
Nem (nehm) - no
Elnézést (el-neh-zesht) - excuse me
Sajnálom (shoy-nah-lawm) - I'm sorry
Köszönöm (kew-sew-newm) / Köszi (kew-see) - Thank you/Thanks
Szívesen (see-ve-shen) - You're welcome
Nem beszélek magyarul (nehm be-say-lek ma-djar-oohl) - I don't speak Hungarian
Beszélsz angolul? (bass-ale-ss ma-ja-rule/on-goh-lool) - Do you speak English?
Mennyibe kerül? (men'-nyi-be ke-rewl) - How much is it?
Szeretnék egy… (se-ret-nayk eh-dj) - I would like a…
Hol van a…? (hol vahn aw) - where is the…?
Egy jegyet kérek. ,(eh-dj yej-et keh-rack) - a ticket, please
A számlát kérem (aw sam-lat keh-rem) - the bill, please
Egészségedre! (ag-eh-sheg-ad-reh) - Cheers!/Bless you! (when someone sneezes)
Jó étvágyat! (yoh eht-vah-djot) - Enjoy your meal!
Save the Date
Hungarian National Holidays
Other than the obvious ones like Easter or Christmas, here are a few days that are special for the Hungarians. You can find a full list here.
March 15th - The anniversary of the revolution against the Austrian rule
May 1st - Labour Day
August 20th - St. Stephen, the Hungarian state founder's day
October 23rd - Commemorating the outbreak of the 1956 revolution against the Soviet rule
Events
Torkos csütörtök (February or March) - Gluttonous Thursday, celebrates the last days of wantonness before Lent. The participating restaurants offer major discounts on food and drinks. Book a table in advance - a lot of people are interested in eating half for free!
Budapest Spring Festival (March) - takes place at the very end of March and lasts for two weeks. It includes jazz, opera and orchestral performances, dancing events, a chess festival, activities for children, and much more! It is a very family-oriented event, participants of all ages are sure to find something they will enjoy.
Sziget Festival - One of the largest festivals in Europe. It is mostly about music, but not only! It focuses on art in various forms and theatrical performances. NGO workshops are set up for the creative minds attending this artsy celebration. It's mostly for the locals (people don't hord to it like at Coachella or Glastonbury), so it's the perfect way to experience the true Budapest spirit and make some local friends!
Sziget means island in Hungarian, the name comes from where the event takes place - the Hajógyári Sziget (Shipyard Island). The island is huge - be prepared for a lot of walking. It is normal to make 20km over one day spent at the festival, navigating between the various stages playing different genres of music and running between the multiple workshops and performances!
What makes Sziget stand out among other festivals is that it offers a citypass including free public transport, a free visit to the spa, a free shuttle bus transport from the airport, and transport to the island by ferry. It can be bought for 13 (49 EUR), 5 (33 EUR) or 2 (19 EUR) days. The festival never stops for the entire week, you can be there all the time, living in a tent in one of the designated spots and enjoying yourself. Attention: due to covid regulations, Sziget festival is cancelled in 2021. But don't worry, it will be back in 2022, happening between 10 and 15th of August! You can buy your ticket now, before they're all gone!
Statehood Celebrations (20th August) - Include fireworks show along the Danube River. They can be seen from the entire city but the best spot is the Gellért Hill, as it gives a panoramic view of all of Budapest. Special cruises are organised, offering a front-seat view of the fireworks from the river itself. The initiation of the event takes place the day before the main part, on the 19th of August. It features food stalls and live music, amazing processions, and an air show. Definitely not something you'd want to miss!
Café Budapest Contemporary Arts Festival (October) - The biggest art festival in Hungary - includes multiple exhibitions, concerts, performances, and workshops. It lasts for more than a month, so you can imagine tha variety of the attractions offered over such a long time!
Sziget Festival
Fun Things to Do Around the City
Hungarian cuisine
No matter how much or little you already know about the Hungarian cuisine, there is probably one word immediately popping into your mind at the thought: paprika. You're absolutely right - paprika is definitely the queen of spices here, and (almost) no dish can exist without it. Here is an overview of some (but not all!) famous Hungarian dishes - with or without paprika:
Tejföl - Not really a dish, but an important fixture in the cuisine itself nonetheless. The Hungarians love sour cream and put it in many of their dishes. It might be because their cuisine is generally quite spicy and the sour cream helps to soften the taste - or maybe there's another secret I'm not familiar with. If you are aware of something we're not, let us know in the comments!
Gulyás (goulash) - Hungarian national dish of a spicy meat stew with vegetables. Sometimes served more in the form of a soup, other times it's thicker. No matter the consistency, it's always hearty and will never leave your stomach empty!
Hálaszlé - A hot fish soup with lots of paprika.
Lángos - Deep-fried flatbread topped with various things - sour cream, garlic, cheese, mashed potatoes, ham or sausages. It looks a bit like a pizza, but it's typically Hungarian, and you just cannot visit the country (much less live in it) without indulging in this amazing treat for the soul!
Paprikás csirke - Chicken in a thick, hearty sauce full (of course) of paprika.
Túrós csusza - Egg noodles with sour cream and cottage cheese, sprinkled with crispy bacon. Doesn't sound appetizing, but don't cross it out until you've tried it. Just trust me on that.
Töltött Káposzta - Stuffed cabbage rolls, a popular fixture in many Central European cuisines. Inside you can find a filling of minced meat mixed with rice, spiced with paprika. Often served with tomato sauce.
Kolbász - Sausages of every kind you can possibly imagine, a Hungarian specialty. If someone from your family happened to visit Hungary at some point, it is very likely they'd brought you some as a souvenir, waving it enthusiastically at you and praising its amazing flavour.
Kürtőskalács - A chimney cake, can come with extras such as melted butter, sugar, cinnamon, nuts and caramel. Very filling, very special, very tasty.
Somlói Galuska (Hungarian Trifle) - Sponge cake, layered with chocolate cream, walnut kernel, and rum, topped with a generous serving of whipped cream. Yum.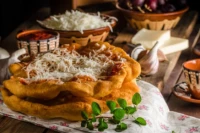 Langos - Hungarian must-try
Budapest's Best Food Places
Of course, tastes differ. If you know of any of Budapest's hidden culinary gems, do let us know in the comments! In the meantime, we have prepared a variety of spots we think are worthy of attention and will suit everyone (yes, vegetarians and vegans, too, despite the general incompatibility of the Hungarian cuisine with this type of lifestyle).
Whether you're more of a savoury type of a person or have a sweet tooth, here are some of our propositions of best foodie places in Budapest:
Restaurants
Pest-Buda bistro - A very wallet-friendly place, serves delicious Hungarian food in the best quality-to-price ratio. Warm, cosy, and inviting. Just a few steps away from the famous Fisherman's bastion.
Street Food KARAVÁN - Located in the middle of Pest's party-loving 7th district, it is a food truck area filled with cuisines from all over the world. Perfect for when you're headed somewhere with a group where everyone has a craving for something different! Attention: it is open seasonally, meaning it's closed from late autumn until early spring, staying open for as long as the weather will allow it.
Kék Rózsa (Blue Rose) - A small, underrated place in the Jewish District, serves real, homemade Hungarian cuisine. A definite pearl among the places to eat in Budapest - and the prices are great, too!
Napfényes Étterem - A fully vegan restaurant, serves a mix of Hungarian cuisine and other dishes. One of the very few places where vegans can experience real Hungarian cuisine without resorting to bending their rules. Huge portions for a good price and friendly staff.
Cafés
The coffee culture in Budapest is well-developed and extremely important, with new cosy places constantly popping up all over the city. Here are some of the ones we've enjoyed the most:
Massolit Books and Café - Located in the Jewish District, it allows you the break you need with a good coffee, good cake, and a good book. The perfect trio. What else could one desire?
9BAR - A quiet escape from reality in the very heart of Budapest. Perfect for bringing your book, laptop, or a friend to enjoy a break from the noisy city centre over coffee that's famous for its beautiful presentation and a freshly-baked croissant.
Café Gerbeaud - A top-notch climatic place with a historical vibe. Founded in the 19th century, it has ever since been famous for one of the best exclusive desserts in all of Budapest. Would highly recommend their iconic Gerbeaud Cake (layered cake stuffed with almond jam-walnut filling, covered in dark chocolate. Absolutely delicious). A bit pricey, but worth it.
Zoo Café - If you're looking for something a bit different, you'll find it here! Aside from enjoying your coffee, you can experience an encounter with the cutest pets and curious exotic animals. The place is quite popular (you can guess why!), so bookings are necessary.
The Goat Herder - Delicious baked goods, freshly-squeezed juices, hot drinks, and even a lunch menu. You can find it all in this tiny café that takes up such a huge space in the heart of many Budapesters.
Remember: Tipping is mandatory in Hungary and should be taken into account preparing your budget for an eating-out trip!
Places to Go/Things to Do
Out of the many adjectives one could use to describe Budapest, boring is not one of them. There are plenty of things to do in Budapest, and here is why you should do each and every single one of them:
Parks
Margaret Island - Nestled between Buda and Pest, it brings together the best of both worlds: the quiet retreat of the West, and the bustling lifestyle of the East. This oasis in the middle of the city is perfect for picnics with family and friends - it also has lots of food and drink stands spread throughout the park, in case you forget to bring your own food. There are lots of outdoor activities such as concerts and yoga classes going on. There is a monthly free timed 5k run organised around the island, if running is what you're into. And last but not least, Margaret Island even has a small zoo!
A friendly tip: Make sure to bring some change for the public toilets!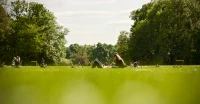 Margaret Island Park
Városliget (City Park) - Has a yearly schedule of seasonal festivals. More importantly, it is home to the Széchenyi Baths - one of the many Turkish baths Budapest is famous for! Make sure to visit the fairytale-like Vanjdahunyad Castle, looking as though it's just been taken out of a Disney princess film, with its combined architecture from different epoques. The park also features a lake where you can go boating in the summer and ice skating in the winter.
Gellért Hill - It includes Normafa Park, yes, but in itself, it is so much more! The Gellért Hill towers over Budapest, offering a stunning view of the city when you hike up to the top. There is a Statue of Liberty perched there, and a Cave Church - definitely worth seeing even if you're not usually into churches. Nomafa Park has a nice playground, so it's a good spot for a family trip.
Római Part - Refers both to the riverside beach and the walking and cycling promenade that lies behind. You need to commute there by taking the line D12 ferry boat to Rómaifürdő (service currently suspended due to covid), or the subarbian HÉV train (which requires a 20-mins walk from the station) - but we guarantee the commute is worth it! Because it's a bit further away, it is the perfect retreat for the weekend. When you step off the boat, it feels like you've travelled to the countryside, there are no traces of the big city left. The big trees lining the promenade offer a cool shade. And the best part? Két Rombusz. It is an eating area with fire pits, and essentials like the grill and skewers are provided. You can either bring your own food or order something on the spot. Attention: bringing your own food is more than welcome, but you can't bring any drinks.
Museums
Hungarian National Museum - Combines the art, history, and archeology of Hungary. Not to be confused with the Hungarian National Gallery, the art museum with the dome offering a spectacular view of the city!
The House of Terror Museum - Hungary's communist past still leaves an impact on its modern reality. Becoming a part of Budapest, it is important to learn the importance of its tragic history. The building of the museum was used by both the Arrow Cross Fascist Party (Nazis) and the AVH (State Protection Authority - communist secret police of Hungary, akin to the KGB) and served as a torture spot for prisoners. It now commemorates the memory of all who had been held captive and lost their lives inside this building. The museum stretches across the floors above the ground and the basement, showcasing the brutal reality of the prisoners' life between those walls. It is not for the weak of heart, but definitely worth visiting and paying homage to everyone who'd suffered from Hungary's difficult history. The museum is easily accessible by the Millennium underground (M1) or tram 4 and 6. It is a short walk from the Vörösmarty utca underground station or the Oktogon tram stop.
Other spots
The Bálna - Sitting along Danube's riverside, this historical brick building was enhanced with a glass construction resembling a shell. Inside you will find art galleries, restaurants, and shops. It serves as a commercial, cultural and entertainment centre, but originally it was meant to become an iconic architectural feature of Budapest - like the Eiffel Tower for Paris. Despite not having quite reached its goal, this building is definitely charming and worth visiting.
The Castle District - Full of historic sites and attractions. Perfect for a lazy stroll and an ideal scenery for a charming photoshoot. If you come in the morning, you can enjoy a moment of peace and quiet among the awe-inspiring, historical buildings before the streets fill with tourists.
The Hungarian Parliament Building - Yes, it's the one decorating the fronts of all Budapest postcards. You've probably caught glimpses of it millions of times, but it shouldn't stop you from glimpsing this architectural pearl from up close. You can even get a tour of the inside - observe the inner workings of the Parliament and admire Hungary's first king's crown jewels.
Heroes' square - If you don't know much about the importance of Hungary's tribal history, this is the perfect place to change it. The plaza is guarded by figures of the Seven Chieftains of the Magyars and other important Hungarian leaders. Additionally, the square is located right in between two art museums (Museum of Fine Arts and Kunsthalle aka the Hall of Arts) so it's the perfect location for art enthusiasts.
Hungarian State Opera House - One of the most beautiful opera houses in Europe. It has the most perfect acoustics, and the concerts there are valued among people of all ages and coming from all countries.
The Jewish Quarter - The beautiful architecture of the 7th district is reason enough to stroll down its climatic streets. It is also home to the Great Synagogue on Dohány Street - Europe's largest and world's second-largest synagogue and a breath-taking building. Make sure to check out the art galleries and antique stores dotting the Falk Miksa Street.


The Hungarian Parliament Building - because one picture too many of it is not nearly enough
Budapest's Nightlife
As Budapest is a relatively young city, full of young professionals and new families, the nightlife scene is also quite vivid. There is a huge student population given the many universities, and many of them appreciate a good night out on the town.
The main nightlife attraction that makes Budapest stand out among other cities are the famous ruin bars. A large part of the Jewish Quarter was left to fend for its own after being destroyed in World War II. Instead of letting the buildings slowly grow over with wild flora, the abandoned ruins became the set of multiple popular bars and clubs. Full of vintage furniture and original decorations, they create a rather hipster, funky, laid-back atmosphere. You can go there to enjoy a drink or show off your wild moves on the dance floor. The ruin bars scene is quite dynamic - they tend to come and go as new investors pop up and begin renovating the old buildings, consequently forcing the party businesses - more or less official - to close down or find a new spot.
Szimpla Kert - The very mother of ruin bars, as it was the first one to be established in 2002. It still exists and operates, featuring different-themed rooms and a lot of dancing space.
Instant-Fogas - One of the biggest ones, a complex of a few smaller bars merged into one. It takes up an entire abandoned block of flats. The party-goers can hop in and out of different rooms, enjoying the maze-like layout and the surprises waiting for them around each corner.
Doboz - More upscale than other ruin bars, famous for the red-eyed King Kong hanging from the ceiling and looming over the dance floor. The different genres of music dominating each room make sure that everyone will enjoy themselves, no matter their taste.
Grandio - A party hostel. Famous for its outdoor area hosting some of the best parties in Budapest. Their motto is: "you can sleep when you're dead, so don't expect to get any while you're here". Pretty straightforward.
A38 - Not a ruin bar, but no less amazing. It is a boat in the middle of Danube where lots of concerts take place, a venue for cultural events.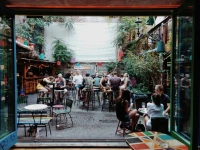 Ruin bar


Sports
The Danube River offers many opportunities for practicing water sports such as kayaking and SUP. There are plenty of spots in the Római Part and on Margaret Island where you can rent all the equipment you need and find an instructor who will teach you the basics.
Another form of physical activity is offered by the Gellért Hill or across the Buda Hills looming over the city. They are a perfect hiking spot, and also a place where you can practice mountain biking due to the amount of undeveloped woodlands.
Kayaking on Danube

Shopping in Budapest
The Great Market Hall - the biggest market hall in the city, famous for its beautiful, vaulted ceiling. Located next to the Liberty Bridge, it offers a wide variety of choices and fresh products. On the main floor, you will find fruits, vegetables, nuts, dairy, and baked goods. Climbing up the stairs, you can enjoy a meal in one of the restaurants or find a nice souvenir to bring home in the many handicraft and souvenir shops. Downstairs is reserved for the more pungent fish vendors and butchers, with an Aldi supermarket.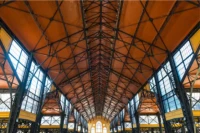 The Great Market Hall
Király Street - Budapest's Design Street housing many local fashion boutiques. You can find here locally-made furniture coming from under the hands of the rising stars of Hungary's world of design.
Of course, there are also many commercial shopping centres, including Corvin Plaza, WestEnd City Centre and Mammut Shopping and Entertainment Centre with a cinema.
Cost of Living in Budapest, Hungary
The cost of living in Budapest itself is quite low compared to other European capitals. You can use this comparer to see how Budapest matches up with your city. It is worth noting that VAT is quite high in Hungary - amounting to 27%.
Food/Grocery Shopping
Grocery shopping usually takes up ¼ of Hungarian monthly salary. The local products are cheap, but the imported ones can get quite expensive. When you go to the Great Market Hall, you can observe that while the price of the locally-grown apples is rather reasonable, that of the Spanish oranges next to them - not so much.
In Hungary, most shops (excluding big commercial centres) are closed on Sundays, so make sure in advance that you have enough groceries to survive the weekend!
Here is an example of an average grocery shopping list in Budapest:
Other expenses
Coming to work in Budapest, you will probably need a phone and access to the Internet. As in many countries, if you buy your mobile phone, TV, and internet from the same company, you can get some great deals. It's worth checking and comparing prices.
Internet service providers in Hungary, Budapest
Mobile phones companies in Hungary
Taxes
Hungary's flat income tax rate is 15%. Expats whose only income is their salary don't need to file tax returns as their employer will deduct tax on a monthly basis. The tax rules themselves are quite convoluted - even the locals have trouble understanding them, so it's a common practice among Hungarians to hire an accountant who will sort out their taxes for them.
Foreign residents are required to only pay tax based on their income in Hungary - for the first 183 days (here we go with uneven numbers again). After that period, you are considered a permanent resident and will need to file tax returns for all your income, including any coming from outside of the country. Hungary has double taxation agreements with some countries so that the expats don't need to pay tax in two countries - you should check it with the tax office in your home country.
Medical Care
Hungary has a tax-funded universal health care system, organized by the state-owned National Health Insurance Fund. Therefore, you need a job to qualify for free treatment at public institutions. Once you are employed, the Hungarian company will pay the health care fee for you. You will get the TAJ-kártya I mentioned here - make sure it's activated before accessing any medical service! The cost of private medical care plans is not exorbitant, so don't worry if you have to fend for yourself for a while.
In fact, Hungary is known for its effective, reputable, and affordable health system. It is one of the main destinations of medical tourism in Europe and has excellent medical and dental services.
EU citizens: make sure to get your EHIC card, it will cover the costs of emergency treatments. Do not, however, treat it as your main source of insurance. You will need another insurance plan, either provided by your employer or private. In the case of the latter, you can try Top Expat Insurance or Allianz.
We hope this won't come in handy, but just to be safe, here are the medical institutions you can go to in case anything happens:
Péterfy Kórház - for emergencies
Szent Rókus Kórház - general hospital
Buda Health Center - private clinics (there are 3 in Budapest)
Here you will find more reputable clinics and hospitals in Budapest with their addresses and websites.
Bonus: interesting facts about Budapest and its people that didn't quite fit into any other category!
The official date format in Hungary is: YYYY.MM.DD

Budapest is a quite famous movie hub - a lot of famous movies were filmed there (eg. Mission: Impossible - Ghost Protocol, Season of the Witch, The Rite).

Hungarians address each other first by surname, then by the first name - so for example if James Bond happened to go on a mission in Hungary, he would go around introducing himself as Bond James.

Unfortunately, there is a large number of smokers in the city - smoking is not banned in public spaces and even though the selling of cigarettes is limited to special tobacco shops with entry restricted to people above 18 years old, it doesn't do much to discourage the citizens of Budapest from indulging in the nicotine treat.
So, did we manage to make you fall in love with Budapest? The city of beautiful architecture, very peculiar language, lángos (remember what it is?), and friendly people who need a bit more of a reason to smile? Do you feel like you already know the place by heart, it seems like somewhere you could feel at home, and all that is left is to move there? If so, take the first step, find the perfect job in the perfect Budapest, and enjoy your Hungarian dream. And if you know something about the city we haven't included in the guide, feel free to let us know in the comments below!