We've already given you all the tools for the perfect application in the previous days, now it's time to start sending out your CV! Our last-minute checklist is all you need to be on top of the application process and put into practice your organisational skills.
One of the first things that can turn recruiters off is careless mistakes in an application. It gives the impression that you haven't put effort into it and you don't care. Make sure you go through our checklist to double-check your application is flawless.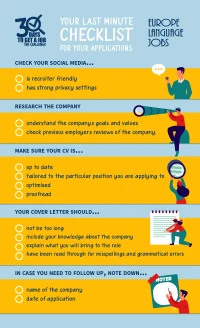 Why check your social media?
Since the rise of social media, there is a common myth that the only reason recruiters check these channels is to make sure you never have any fun. Whilst it's true any incriminating photos are likely to turn a recruiter off, social media is largely used as a way to get an idea of who you are and see how you'd fit in the company. Better to be safe than sorry though, so keep as much private as possible.
The benefits of researching a company
It's all well and good applying to as many companies as possible, but if you get to the actual interview process - or even offer stage - and decide that this isn't the company for you, that's a lot of time and energy wasted. Even worse - imagine joining a company and only after finding out that many of the employees are very dissatisfied with working there. Using tools such as Indeed can ensure the company environment and values will align well with you.
How important are your CV and cover letter?
Whilst not all companies require cover letters, CVs are pretty much a must. These are a tool to help employers filter through applications and narrow down the options. This will be your first opportunity to wow recruiters and catch their eye, so they need to be done right. Cover letters are a great accessory to your CV - so if you are given the opportunity to include one in your application, do. They should add to your application, rather than be a summary of your CV. It's a chance to add your voice to the application and explain why you want to work for the company.
Keeping track of applications
When a recruiter calls about a prospective interview, it looks really bad when you're not sure which position they're calling about. Keeping track of where and when you've applied is a great idea if you're thinking of following up with companies. It's a good idea to keep track so you can set goals for the number of applications you send per week.
Once you've checked and rechecked, you're all set to send out your applications! You're one step closer to your dream job... now it's time to seal the deal! In the last week of the event, we prepare you for the interview stage!
But before that tomorrow we are having an extra day of the challenge because we believe there is one more thing you should consider regarding the company choice discussed with Viktoria Galitsi two days ago - the size of the company! Discover if operating in a smaller company is more fitting your character and preferences or you were born to be among many in and operating in a large multinational company setting.