Are you asking yourself the question of: "why work in finance?"?
The finance industry is an exciting global industry that is constantly advancing and expanding. There are so many reasons why you would want to join such an exciting and powerful job sector. Not only are the possibilities endless when it comes to career paths but for destinations, too. Companies are expanding to new exciting areas of the world and with this expansion, comes a high demand for finance professionals. By pursuing a career in finance, you are opening the door to thousands of exciting opportunities, including places that you may not have considered moving to.
If you are looking for a job in this exciting business sector, it's time to start your searching for a career in finance today!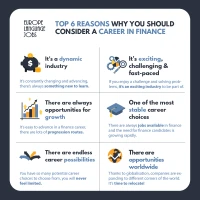 But why are you interested in finance? Pick a reason!

1. Why choose finance: It's a dynamic industry
The finance sector is one of the most forward-thinking industries in the world. It's an industry that is undergoing constant change and growth. Thanks to the introduction of new markets, new laws and legislation, new technology, and a more globalised finance market, the industry is moving in a newer, more exciting direction. Thanks to these exciting changes, careers in finance require more technical skills and qualifications, and the hunt for these dynamic & tech-savvy candidates is bigger than ever before.
2. Why choose finance: The jobs are exciting, challenging & fast-paced
The finance industry runs at an exhilarating pace and as a finance candidate, you must enjoy keeping up with the faster pace of work. Lots of people who work in the finance industry enjoy the many challenges that they face on a daily basis.
Almost every finance job requires problem-solving skills and some of your day-to-day tasks may involve fixing complex problems for large or small companies. If you are someone who thrives from this type of activity in a fast-paced environment, a career in finance is the one for you!
3. Why choose finance: There are always opportunities for growth
If you are looking for a career with clear progression routes, you might consider a career in finance. The growth opportunities are endless, whether it's within the same company or elsewhere. Once you have some experience under your belt, it becomes easier to map your career out and decide which route you would like to go down.
It's safe to say, this is one of the greatest things about pursuing a career in finance, no matter where you start, there are always opportunities to grow and excel. Whether you end up working in Marketing, Investment banking. Law, Accounting, or any other industry, there will always be clear progression routes.
4. Why choose finance: One of the most stable career choices
As the global finance industry continues to grow, so do the number and type of jobs that are on offer to finance graduates and professionals. By studying finance and pursuing a career in this exciting industry, you are entering an industry with a big hiring volume and endless job opportunities.
The financial job market is growing and it's a lot more than common for companies to hire new people in large volumes. Thus, you should never feel threatened by the large volume of Finance candidates and graduates who are also looking for Finance jobs. Although they may be your competition, finance candidates are in demand.
Furthermore, in terms of stability, the wages tend to be above average and as we mentioned, the progression routes available are particularly appealing. It's definitely an industry that can offer great stability to candidates.
5. Why choose finance: There are varied career paths and options for different people
With a finance career, you will never feel limited to one particular position. By studying finance or a finance-related degree, you will have the freedom to choose from a variety of career paths, whether it's Retail Banking, Investment, Financial Services, Law, and more. You may even end up in the gaming industry. Imagine the success you could have using your mathematical skills at a casino!
Tempted to find out if this is your calling?
Put your mental skills to the test by trying to win at Dream Vegas Casino. You can make your career in finance feel more like a hobby than a daily job commitment! Furthermore, the skills that you learn within finance are transferable across a variety of sectors and they are seen as some of the most desirable skills to employers. Those are skills such as problem-solving skills, analytical, and communicational skills.
Whether you end up as an Accounts Payable, Purchasing Administrator, Insurance Broker, Account Manager, Financial Service Advisor, or Research Analyst, the possibilities are endless.
6. Why choose finance: There are working opportunities worldwide
Unlike some industries, the need for humans will always remain strong throughout the financial industry. Companies need finance professionals, and these professionals need to be able to communicate well with clients and colleagues. Since companies are expanding to other areas of the world, the need for finance professionals with strong communication skills is growing faster than ever before.
In terms of communication, multilingual candidates are extremely desirable to employers. Just by possessing language skills, you increase your ability to communicate with clients from other areas of the world. And since finance is a global business, this level of communication is incredibly valuable.
We hope that we have helped to answer the question of "why work in finance?" and that you now feel encouraged to start your search for a career in finance. These are just a selection of the reasons why you might consider a career in finance, and there are so many more reasons why you should join such an exciting industry. Our best advice is to go for it and find your dream finance job today and start experiencing the many advantages of entering this rewarding industry.
So, why would you like to work in finance? Let us know in the comments below!