Is moving abroad on your list of things to do in 2024? If so, you may be wondering what the top expat jobs in Europe are.
We have good news for you - you have come to the right place! As an international job board, we regularly collect data regarding current trends in the job market. We have put together this ranking of the most popular expat jobs in Europe based on our own experience and internal research.
The jobs included on the list are positions with the highest number of job offers on our job board. Have a look at what kind of expat jobs multinational employers are looking to fill most often.
Top Jobs for Expats in Europe in 2024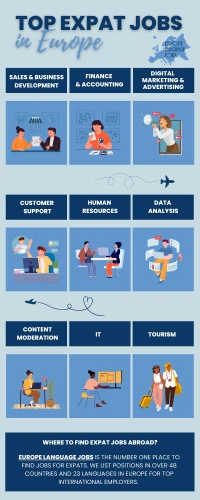 Business Development and Sales
Working in this sector requires active communication with clients and other companies. For this reason, international enterprises are constantly looking for language speakers to fill roles in Business Development and Sales.
They are an example of highly rewarding jobs for expats. Working in this sector presents an opportunity to contribute to the growth of business and increase revenue. The possibility of talking to other people in different languages makes it a perfect area for professionals who enjoy human interaction.
Not to mention, roles in Business Development and Sales are commission-based. The more efficient you are, the bigger the bonus you can expect at the end of each month or quarter.
Therefore, it is the perfect job for expats planning to move to European countries with a higher cost of living, such as Scandinavia or the Netherlands. The extra revenue will provide them with a comfortable standard of life in otherwise expensive places.

Finance and Accounting
Working in Finance is often associated with a high income. But what if, as a finance professional, you could also move to a country with a booming economy and enjoy an even higher salary?
It's possible!
International employers are hiring multilingual candidates for positions in Finance and Accounting. All you need to do is visit Europe Language Jobs and set the filters to the domain that interests you.
You will find expat jobs as a Payroll Specialist, Financial Advisor, or Corporate Accountant in various European countries. If you'd like to connect your career in the Finance and Accounting sector with your dream of living abroad, know that it is achievable.
Digital Marketing and Advertising
Various positions in Digital Marketing and Advertising are among the top remote jobs, due to the ease with which they can be performed online. But did you know they are also one of the most popular jobs for expats?
Social Media and digital ads present unlimited opportunities and bring incredible results for companies. For this reason, employers are looking for skilled professionals who can effectively navigate the digital world.
Country-targeted content is a must for international businesses addressing audiences in different parts of the world and speaking different languages. So, the knowledge of foreign languages is a huge plus if you are looking for a job in the Digital Marketing sector.
Working in this domain is incredibly dynamic and rewarding, and connects creativity with careful data analysis. These factors make marketing-related positions one of the top expat jobs year after year. And their popularity only grows!

Customer Support
Possibly the sector of jobs for expats where language speakers are in the highest demand. Respectful businesses care about the quality of support they offer to their customers, so they create teams speaking various languages to provide a highly personalised approach.
Although it is a big responsibility to be the link between a company and its customers, a career in the Customer Support sector actually comes with a healthy work-life balance. Workers in this area often enjoy flexible working hours and excellent benefits.
Not to mention, this is one of the top expat jobs which can be done fully remotely. Your employer might provide you with the necessary work-from-home equipment if you prefer the comfort of your home office.
If not, international companies all over Europe offer state-of-the-art premises in popular expat destinations such as Greece, Spain, or Portugal. You can also count on attractive relocation packages and support if you decide to move abroad.
Human Resources
As we have said, employers on our job board are actively hiring multilingual speakers for attractive positions all over Europe. Logically, they need a strong HR team to help them find and onboard new candidates and care for the existing employees.
If you are looking for expat jobs abroad and enjoy working with people, then a role in the Human Resources sector might be perfect for you. International companies look for candidates from all over the world, so they need language speakers to join their HR departments.
By choosing this sector of jobs for expats, you can use your language skills to help other people find their dream job abroad, ensure their professional development by organising training, or watch over maintaining a healthy working culture by supporting your colleagues.
Working in Human Resources is demanding but incredibly versatile. You come across different, inspiring people, make connections, and go to work every day with the knowledge that you can contribute to creating a work environment others are happy to be part of.

Data Analysis
Today's world is based on data. It revolves around it, and the amount of data we deal with every day requires skilled professionals to process it.
This is where Data Analysts come in. This role is in demand in many countries, making it one of the top jobs for expats in Europe.
Being able to process, understand, and act upon data is a coveted skill few people possess. It is undoubtedly a challenging job, so it comes with an accurate remuneration and attractive benefits. If you can prove you are good at what you are doing, you may count on competitive salaries in top European countries.
Although this may not seem like the type of job where communication plays the main role, the knowledge of languages is a huge advantage in this domain. Data Analysts work directly with various teams. In the case of international companies, they might include representatives of different nationalities speaking a range of languages.
Content Moderation
Content is the key element of staying afloat for the majority of businesses these days. But it's not just any content - the quality of it is important for employers who care about their branding and public image.
With the amount of content created every day, it is impossible for one person to monitor and verify all of it. This is why entire teams of Content Moderators are being created in major companies all over the world.
A Content Moderator is responsible for making sure the digital world is a safe space for customers. They are guardians of the Internet, ensuring a positive user experience and removing all inappropriate content from places it is not welcome.
As the power of content grows every day, so does the popularity of this top job for expats. Language skills are a must in this profession to verify content in different regions and languages.

IT
It is no secret that the IT sector is thriving all over the world. Professionals who are gifted in the area of programming enjoy the luxury of high salaries and the possibility to find expat jobs anywhere.
The most popular IT-related position on our job board is Technical Advisor. This role is great for those only just working their way into the IT industry, or who are passionate in this area but don't have extensive knowledge of advanced programming.
The role of a Technical Advisor is to solve technical issues encountered by customers. This expat job hovers between the area of IT and UX - you have to be able to navigate a website, explain basic concepts to people who have no experience in this area, and make changes when necessary.
Why is it a good job for expats?
Aside from hard skills in the area of basic programming and knowledge of HTML, Technical Advisors also need to be able to speak foreign languages. They often directly communicate with customers, so they are expected to carry out a conversation in more than one language.
Tourism
Last but not least, the most obvious job for expats. Positions in Tousim come in all shapes and sizes - the most popular one on our job board is a Tourist Advisor. Interestingly, it is also one you can do remotely, so you can go from an expat to a full-on digital nomad!
Many expats target the Tourism sector, as travelling is something they are usually familiar with. Providing advice to less experienced explorers can be extremely satisfying. You may even play a role in helping them convert into full-time expats as well.
In this expat job, you can mix business with pleasure and work in an area you are passionate about. Imagine being able to help someone avoid common travel mistakes by becoming their advisor.
This way, you get to share your valuable tips, and someone else gets a flawless travel experience. Win-win! All you need is to know an extra language or two, be a travel geek, and visit our job board to look for jobs in Tourism.
How to find expat jobs in Europe?
There is a range of job boards focused on helping people find expat jobs abroad. They are usually more effective than generic job boards, as they only list positions requiring specific languages and based in particular countries.
Many positions on such international job boards are also created for expats, which means they come with tailor-made benefits. They can include relocation packages, covered ticket fees for arrival, support with paperwork and visas, or help with finding accommodation in a foreign country.
Europe Language Jobs is an example of such a job board. We list hundreds of expat jobs abroad and are focused entirely on multilinguals and expatriates.
We upload new positions every day - if you would like to be the first to know about them, sign up for our newsletter or download our mobile app and turn on notifications for jobs matching your profile.
Where to find expat jobs?
Europe Language Jobs is the number one place to find jobs for expats. We list positions in over 48 countries and 23 languages in Europe for top international employers.
Our team consists of expats and multilinguals, so we all know first-hand what is important to someone looking to move abroad. Companies collaborating with us offer attractive relocation packages and support for their international employees.

---
So, if you are looking for top jobs for expats in 2024, now you know what to look for, and where to find it. The positions listed in this article come from a range of different industries and sectors, so there is a huge variety for you to choose from.
Regardless of your requirements and skills, you will definitely find the perfect expat job for you. We make sure to offer a broad selection so that you can focus on the country and languages - and don't have to worry about the industry.
If your goal is to move abroad this year, we wish you the best of luck. Remember that we also provide career advice and tips on living abroad to keep fellow expats supported from start to finish!