Portugal, a country rich in picturesque landscapes, beautiful beaches, quaint towns and beautiful weather. Why wouldn't you want to search for jobs in Portugal with your language skills?
The job market in Portugal is growing rapidly and so is the demand for different European language speakers. Now is an exciting time for travellers and expatriates as it's becoming easier and easier to find jobs in Portugal even if you don't know Portuguese. (Although, we do encourage you to learn Portuguese!)
Portugal is filled with more internationals and expatriates than ever before. There has been a rise of digital nomads and European travellers who have taken a liking to Portugal and decided to make Portugal their new home. Cities like Porto, Lisbon and Braga have become more and more popular over the past couple of years and the expat community is growing. Also, Algarve is becoming one of the most popular places for expats, here you can find tips on moving to the Algarve, Portugal. There are so many reasons why Portugal is becoming the dream destination for Europeans and travellers, now is the time to search for jobs in Portugal!
Prepare For Your Job Search
As we always like to express, different countries have different rules when it comes to CV writing and the application process. It's important to research this before applying for any jobs in Portugal to ensure that your CV, cover letter and your general job search approach is up to the Portuguese standards.
Portugal's CV structure differs from other European countries in terms of length and structure, they tend to be less strict when it comes to the length of your CV. Accepting around 1-3 pages, unlike other European countries who usually have a strict limit of 2 pages in length.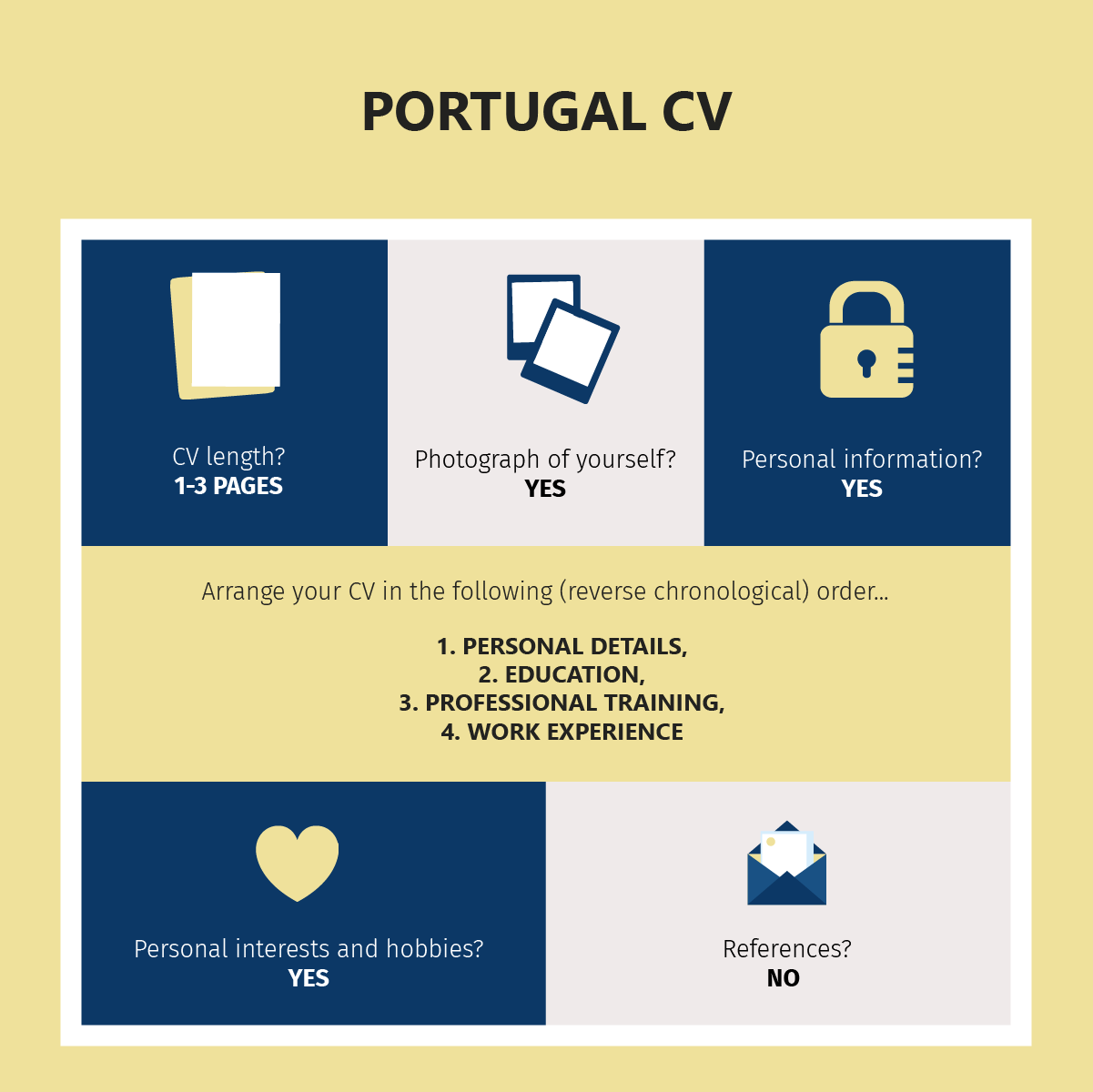 German-Speaking Jobs
If you are a German-speaking candidate, your language skills are in more demand than ever before across Europe. There are so many jobs in Portugal for German-speakers, it's time to relocate to the colourful Portuguese landscapes and towns.
The available jobs in Portugal are mostly Customer Service based roles, so if this is something you are looking for, Portugal is the place for you! In Lisbon and Porto there are large German communities making your move considerably easier and helping you to feel more at home. Not to mention, the beer is even cheaper than Germany too!
Top Sectors:
French-Speaking Jobs
It's not just the cost of living that is persuading French natives to move to Portugal, it's the picturesque countrysides, beautiful beaches and the ideal weather. It seems that most of the French communities are based within Lisbon which is a pretty convenient place to start a new life. Lisbon is undergoing massive improvements since the recession and not to mention, one of the safest cities in Europe.
If you are looking to move somewhere with the buzzing Parisian atmosphere but with the safety and security that we all search for in our new home, Lisbon is the place. The number of jobs in Portugal for French Speakers is growing day by day. There are over 50 jobs in Portugal for French speakers, in both Lisbon and Porto. The best part is, your never too far from home! Some opportunities even have relocation packages
Top Sectors:
Dutch-Speaking Jobs
The demand for Dutch-speakers in Portugal is on an all-time high. If the beautiful beautiful beaches and landscapes aren't enough to move you from the Netherlands to Portugal then the considerably low cost of living, colourful architecture and streets, should be more than enough.
Portugal is the perfect distance from Holland, not too far yet far enough from your own culture. If you are looking to move to a new location with a similar pace of life to areas in the Netherlands but with the addition of sand, good weather and beautiful views of the sea, Portugal is the one for you! What's more, some of our opportunities even have relocation packages!
Top Sectors:
English-Speaking Jobs
With Brexit on the horizon, it might be time to pack your bags and start searching for an English Speaking job in Portugal. Why wouldn't you want to relocate somewhere as idyllic as Portugal? A perfect combination of landscapes, beautiful beaches and buzzing towns with incredible nightlife, tasty restaurants and of course, great places to shop.
Looking for a job in Portugal is a great option for those of you who speak fluent English. Especially in places like Lisbon, English is widely spoken and the second most spoken language after Portuguese.
Top Sectors:
Move to Portugal
Hopefully, you already feel persuaded and encouraged to search for jobs in Portugal. To ensure that your move to Portugal is smooth and drama-free we have some useful tips to ensure that you are organised and ready to take on Portugal!
Now it's time to search for jobs in Portugal and see what is available in your industry. Remember these are not the only languages jobs in Portugal, there are so many opportunities for different language speakers. If you are looking to explore different places in Europe, we have the best opportunities for language speakers on the Europe Language Jobs board. It's time to start searching!