Europeans are becoming more and more open to the exciting and adventurous prospect of moving abroad for work. Many use their native language, which is usually much more valuable outside of their own country and can help them secure a job in a brand new destination.
Are you excited about the idea of moving to a different country and learning a new language? See where in Europe is your native language in demand... you might be surprised!
We have compiled the list below based on the current vacancies we are advertising but there are lots more opportunities in a variety of languages for all of the below countries, so don´t forget to check out the Europe Language Jobs job board to see all of the possible places you could move to with your native language!
Jobs in Portugal
Most Demanded Languages: Italian & Dutch
We are advertising lots of exciting opportunities in Lisbon, Portugal. If the beautiful Portuguese towns, beaches, and landscapes aren't enough to persuade you to move, surely the demand for your native language is! Not to mention the food...
Admirers of Portugal, check out the other language jobs in Portugal on our job board.
Jobs in Greece
Local Language: Greek
Most Demanded Languages: Danish & Finnish
Danish and Finnish speakers, it´s time to pack your bags and venture to Greece's beautiful and historic capital, Athens. Been looking for a move to a different culture? Greece is the word! (Pardon the pun!)
Check out the exciting Danish-speaking and Finnish-speaking roles on our website. Is Greece your dream destination? We have other opportunities in different languages, check out the exciting jobs in Greece on our job board.
Jobs in Spain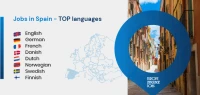 Local Languages: Spanish (and depending on the region, Catalan, Galician, Basque}
Most Demanded Languages: French & German
Looking to relocate but don´t want to venture too far from your native culture? Well, French and German natives, it looks like Spain is the destination for you! Open, friendly people, ideal climate, cultural variety in different regions, interesting customs and traditions, the breathtaking sights, and the FOOD!
Check out the exciting French-speaking and German-speaking roles on our website. If you are dreaming of moving to Spain, we have other language opportunities, too!
Jobs in Malta
Local Language: Maltese & English
Ready to take on a new life on a sunny Mediterranean island? Malta is the place to be. The weather stays considerably pleasant all year round, which is certainly a bonus for English natives, and of course, the cost of living is considerably less than in Sweden.
Don't forget to check out the other opportunities in Malta in a variety of different languages on our website.
Jobs in Cyprus
Cyprus, another island in the Mediterranean Sea, offers great possibilities for career development. Combining the great weather with the taste of Eastern culture and the growing expat community makes it a desirable destination for job seekers.
Don't hesitate to check out all the available vacancies in Cyprus.
Jobs in the Czech Republic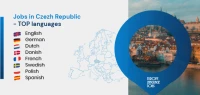 Local Language: Czech
Most Demanded Languages: Spanish & French
Situated in the heart of Europe, the Czech Republic is an economic hub and a great destination for continuing your career. With its rich cultural life, affordable pricing, and a great number of multinational companies, and growing start-up culture, Czechia, ranks the 10th best country for expat living.
Explore all the job opportunities available for multilingual speakers and expats in the Czech Republic.
Jobs in Bulgaria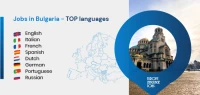 Sofia is one of Europe's fastest-growing economic capitals and more and more companies are choosing to base themselves there. So if you're a Polish or Portuguese speaker, get packing, because this is the country that is looking for your language the most.
At Europe Language Jobs, we have seen a boom in the number of jobs listed in this incredible country, so why not take advantage of it, there are lots of jobs in Bulgaria for a range of different languages, check them out!
Jobs in Germany
Local Language: German
Most Demanded Languages: English & Dutch
Germany is one of the top expat destinations in Europe. Not without a reason, given its level of economical development resulting in so many opportunities on the job market.
English speakers: the German language belongs to the same language group as your native tongue, so you might want to consider learning it, as it may turn out easier than you suspect!
The same can be said about Dutch: in fact, those three languages are said to be triplets, bearing so many similar traits and belonging to the same language group!
Check out our jobs in Germany to see for yourself whether you find German to be alike your native tongue or not!
Jobs in Romania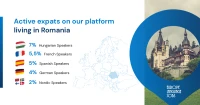 Most Demanded Languages: Dutch & French
Surrounded by much smaller countries, Romania definitely catches one's eye. And not only on the map - it is certain to make you fall in love with its mountainous landscapes. If mountains are not quite your favourite, then maybe we can tempt you with the Black Sea, to which Romania has unrestricted access?
French speakers: as you can probably guess since the name leaves little to the imagination, the Romanian language belongs to the Romance languages group - just like French!
So even if you have never set foot in Romania or are not certain if you have ever heard the language, don't worry, it shouldn't be troublesome for you to learn it to feel more at home.
If you are a native Dutch speaker, you might appreciate the utterly different aura that Romania has compared to the Netherlands. Make sure to check out our jobs in Romania to come and check for yourself!
Jobs in the United Kingdom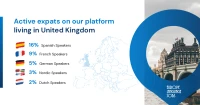 Local Language: English (in England), English & Scottish Gaelic (in Scotland), English & Welsh (in Wales), English and Irish (in Northern Ireland)
Most Demanded Languages: German & French
Because the United Kingdom - just like the name suggests - is a unification of a few countries, it is the land of beautiful cultural diversity. Going there, you will discover how wonderfully different each member country is and will be able to pick your favourite to live in.
Don't get discouraged by the weather - the summer in the UK is actually pretty sunny!
German speakers: German and English belong in the same language group, so if you don't speak English yet, you're still already halfway there!
If you are a native French speaker, all you need to do is jump on a ferry across La Manche to find yourself in the UK! You will be able to migrate without moving too far from home. A perfect solution, isn't it?
If it sounds good to you, check out our jobs in the UK and see if a particular offer sparks your interest!
Jobs in Poland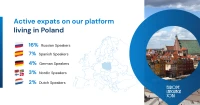 Local Language: Polish
Poland is literally the Heart of Europe - even its shape brings the shape of the organ to mind, if you get your imagination running. This beautiful country equipped with both mountains in the South and the sea in the North has a lot to offer - in terms of culture, landscapes, and career options for multilinguals!
German speakers: if German is your native tongue, then you don't need to move far from home to come to Poland! If you settle close enough to the border, for example in Szczecin, you might even be able to visit your family and friends on the weekends!
As for the Romanian speakers: did you know that Poland and Romania are not actually that different? The landscapes, culture and, mostly, cuisine, are very alike!
Have a look at our jobs in Poland to discover this Europe's hidden gem.
Jobs in the Netherlands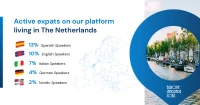 Local Language: Dutch
Most Demanded Languages: English & German
Do you know anyone who would answer "no" if asked if they wanted to move to the Netherlands? Because we don't! It is a very prosperous country, with many opportunities for expats from all over Europe.
We know that Dutch is not the easiest language to learn, but English is so widely spoken there, you shouldn't have trouble getting by!
And if you are a German speaker: Dutch and German are said to be very similar, so even if you don't feel the need to learn the local language, knowing German will make it so much easier for you to communicate with the natives.
Have a look at our jobs in the Netherlands to find your dream job in a dream country!
Jobs in Hungary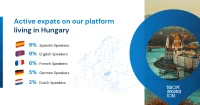 Most Demanded Languages: French & Swedish
Hungary is yet another hidden gem in Europe. Its market is currently undergoing the phase of dynamic development, so many opportunities are popping up there every day. We agree, the language is not the most user-friendly, but we're here to support multilinguals, right?
French speakers are in high demand in Hungary right now - plus French is not the easiest language out there on its own, so if you have mastered it, then maybe you could have a shot at Hungarian, too?
If you speak Swedish but are not sure Scandinavia is the right place for you, then Hungary certainly is!
See for yourself by seeing what jobs in Hungary we currently have to offer you!
---
If your language isn't on the list, then why not check out the opportunities on our job board? Filter your language and the country you want to move to, and take the first step on the road to an adventure abroad! Remember, the languages and destinations above are just suggestions, there are thousands of opportunities on our website in different locations with a demand for different languages.
Do you have another location in mind? Maybe it's time to think about what language you should learn next to give yourself an advantage!
---
Feeling inspired? Visit our blog for more career advice! How can you be sure the information we provide is top-notch? We are a group of professionals working with recruiters, career coaches, and HR specialists from all over the world!
Trust our experience and let us help you find a new job in Europe!